October 21, 2022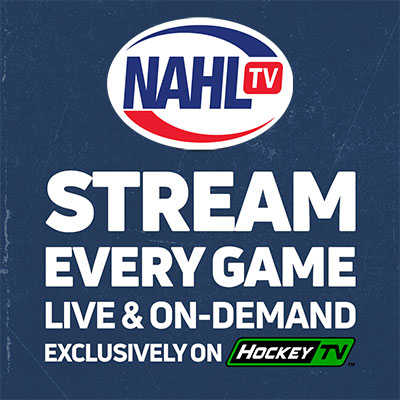 Coming off a banner week of NCAA commitments, the NAHL gets back to the ice this weekend with a busy schedule of 27 games on Friday and Saturday.
While Maryland and Lone Star have sizeable leads in the East and South Division respectively, the other divisions are very tight from top to bottom. Every team now has at least one regulation loss and one win.
It was an incredible week for NCAA commitments as 10 more players make NCAA Division I commitments as the current season total is now up to 111 committed players.
In the Central this weekend, North Iowa holds a slim two-point lead atop the division and will host St. Cloud for one game on Saturday as the Norsemen are looking to snap a five-game slide. In other action, Minot puts their four-game winning streak on the line as they host the Aberdeen Wings. The final series has the Austin Bruins in Bismarck with the two clubs separated by just a point in the standings.
In the East, 1st place Maryland puts its four-game winning streak on the line in Johnstown against the Tomahawks. Danbury is looking to snap a 12-game losing streak as they are in Maine to take on the Nordiques. The Philadelphia Rebels look to snap a four-game slide as they host New Jersey for two games. Northeast in the only NAHL team not in action this weekend.
In the Midwest, most the action is in Alaska as all three Alaska-based teams are at home. 1st place Kenai River will host the Wisconsin Windigo. 2nd place Fairbanks is just a point behind Kenai River and will play host to the Chippewa Steel. Anchorage opens up their 2022-23 home schedule with a series against the Janesville Jets. On the mainland, the Minnesota Wilderness are 6-0-2 in their last eight games as they host Springfield.
In the South, all eight teams are in action. The NAHL's hottest team, the Lone Star Brahmas, put their eight-game winning streak on the line as they travel to El Paso to take on the Rhinos, who have lost four straight. In other action, Odessa puts their three-game winning streak on the line in Amarillo as the Wranglers look to bounce back. New Mexico takes their three-game winning streak on the road to face Shreveport, who has won two in a row. Finally, the Warriors are in Corpus Christi to face the IceRays for two games.
Watch all the action on HockeyTV
Download the all new NAHL App today! (iOS - Google Play)
FRI, OCTOBER 21
Danbury at Maine - 7:05 PM EDT
Maryland at Johnstown - 7:30 PM EDT
New Jersey at Philadelphia - 8:00 PM EDT
Oklahoma at Corpus Christi - 7:05 PM CDT
New Mexico at Shreveport - 7:11 PM CDT
Odessa at Amarillo - 7:15 PM CDT
Austin at Bismarck - 7:15 PM CDT
Springfield at Minnesota - 7:15 PM CDT
Aberdeen at Minot - 7:35 PM CDT
Lone Star at El Paso - 7:00 PM MDT
Janesville at Anchorage - 7:00 PM AKDT
Chippewa at Fairbanks - 7:30 PM AKDT
Wisconsin at Kenai River - 7:30 PM AKDT
SAT, OCTOBER 22
Maryland at Johnstown - 7:00 PM EDT
Danbury at Maine - 7:00 PM EDT
New Jersey at Philadelphia - 8:00 PM EDT
Oklahoma at Corpus Christi - 7:05 PM CDT
St. Cloud at North Iowa - 7:10 PM CDT
New Mexico at Shreveport - 7:11 PM CDT
Odessa at Amarillo - 7:15 PM CDT
Austin at Bismarck - 7:15 PM CDT
Springfield at Minnesota - 7:15 PM CDT
Aberdeen at Minot - 7:35 PM CDT
Lone Star at El Paso - 7:00 PM MDT
Janesville at Anchorage - 7:00 PM AKDT
Chippewa at Fairbanks - 7:30 PM AKDT
Wisconsin at Kenai River - 7:30 PM AKDT