Wilderness ride Marx Noren to sweep
October 2, 2022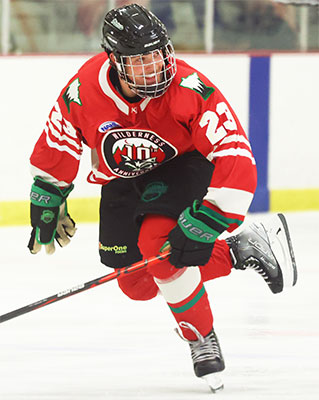 Anchorage 3 @ Minnesota 4 (OT) – Kevin Marx Noren had a hat-trick, which included the game-winning goal in overtime as the Wilderness completed a three-game home sweep of the Wolverines thanks to a 4-3 overtime win in the lone NAHL game on Sunday.
Marx Noren opened the scoring just five minutes into the 1st period, which was answered later in the period with a power play goal from Hayden Hennen of the Wolverines.
The Wolverines took control in the 2nd period with two goals to take a 3-1 lead as Kyle Bauer and Mason LeBel scored.
The Wilderness stormed back in the 3rd period with a pair of goals, including the second from Marx Noren and one from Beau Janzig to tie the game at 3-3.
In the overtime, Marx Noren ended the game with a power play goal as he one-timed a shot from the left circle after a nice pass from Gunnar Thoreson.
Isak Posch made 32 saves in the win, while Ben Dardis made 32 saves in the loss.