NAHL continues Anti-Bullying campaign in October
October 1, 2022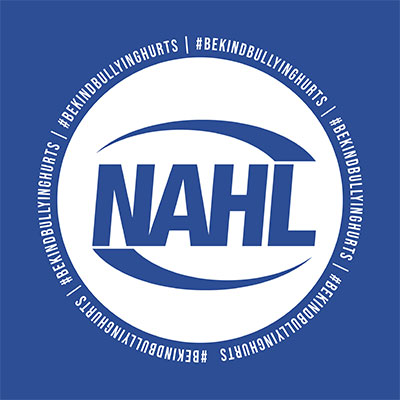 The North American Hockey League (NAHL) and its 29 member clubs are pleased to announce the second year of a league-wide campaign designed for the prevention of bullying.
Federal statistics about bullying within the United States show children between the ages of 12 to 18 have experienced bullying. (stopbullying.gov: Facts About Bullying)
As a part of National Bullying Prevention Month, all 29 NAHL teams are taking part in the effort to bring awareness to the issue of bullying and to communicate and promote a message of acceptance, support, and inclusion with the theme of: 'Be Kind, Bullying Hurts.'
Watch: NAHL Video about Bullying
October is National Bullying Prevention month, and the NAHL's 'Be Kind, Bullying Hurts' Campaign kicks off today, Saturday, October 1st, 2022. During the month, the league and it's member teams will focus on four key messages:
Start the conversation with your peers
Stand up for Others
Make Friends with someone you don't know at school
Sportsmanship; pass it along
"We received a lot of positive feedback from our teams and the NAHL community about our anti-bullying campaign, which we began last year as a league-wide initiative to bring awareness to how to identify and prevent bullying," said NAHL Commissioner and President Mark Frankenfeld. "Through our unique messages featuring players from all 29 NAHL teams, we are setting examples on how to identify and deal with bullying. They are showing that by treating others with kindness and respect, these young adults and athletes show the kids in their communities that there is no place for bullying."
Through a series of videos and in-market activities, NAHL member teams and their players will be amplifying the anti-bullying and prevention message meant to engage parents and youth alike.
"Victims of bullying are at risk for social, emotional, and psychiatric problems that may persist into adulthood. They tend to internalize their problems and are faced with bouts of depression. They feel insecure, cry easily, and are anxious and withdrawn, as well as feeling weak and submissive. Being unhappy leads to withdrawing from friends. Victims stop participating in extracurricular activities and feel unsafe in school. Often their grades drop, creating another issue that compounds their problem." - Joan Teach PHD, "The Bully Cycle"
If you or someone you know is a victim of bullying, you can find help and support at the resources listed below: