September 30, 2022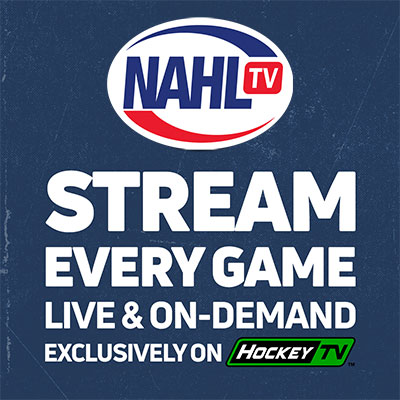 As the calendar turns from September to October this weekend, NAHL teams are still sizing up their rosters and line-ups for what will be a busy schedule for the next two and half months leading up to the holidays in mid-December.
All NAHL protected lists and rosters must be reduced to 24 players by October 4th, so this weekend is one last chance for players to make a statement.
While it is still early in the season, standings remain tight. All 29 teams have won at least one game and there remains only one undefeated team remaining (Amarillo Wranglers).
This week saw four more players make NCAA Division I commitments as the current season total is now up to 87 committed players.
In the Central Division this weekend, the 1st place Austin Bruins are off to a 4-0-2 start and will take on nearby North Iowa (4-2) in a home-and-home series. The Bismarck Bobcats (2-3-1) are fresh off a two-game road sweep of Aberdeen and now will face in-state rival Minot (3-3) in a home-and-home series which includes Bismarck's home opener on Saturday. The Wings (2-4) look to get back on track as they are in St. Cloud (4-1-1) for two games.
In the East Division, the red-hot and 1st place Maryland Black Bears (7-1) face a tough task as they travel to New Jersey (2-6) for Titans home opener and banner raising. The Maine Nordiques (1-3) are back in action as they have a home-and-home series with the Northeast Generals (3-5), who begin this weekend in 2nd place. The Johnstown Tomahawks (1-4-1) have their home opener on Saturday against the Philadelphia Rebels (2-4).
In the Midwest, it is the showdown of Wisconsin as the 1st place Janesville Jets (5-0-2) are in Chippewa to take on the 3rd place Steel (4-3). Meanwhile, the Fairbanks Ice Dogs (6-2) are riding a four-game winning streak as they head to Springfield for two games against the Jr. Blues (2-2). The Anchorage Wolverines (3-3-1) continue their road trip in the lower 48 as they are in Cloquet for a three-game series against the Wilderness (2-3-1). The final series has the Kenai River Brown Bears (4-3) in Eagle River, Wisconsin, to take on the Windigo (2-4).
In the South, Amarillo and Odessa are both idle. The 5-1 El Paso Rhinos are in Lone Star to take on the 4-1 Brahmas. The New Mexico Ice Wolves (5-1) look to build upon their fast start with two games in Corpus Christi against the IceRays (1-4-1). The final series has the Oklahoma Warriors (4-1) in Shreveport to take on the Mudbugs (1-4-1).
Watch all the action on HockeyTV
Download the all new NAHL App today! (iOS - Google Play)
FRI, SEPTEMBER 30
Maine at Northeast - 7:00 PM EDT
Maryland at New Jersey - 7:30 PM EDT
Janesville at Chippewa - 7:00 PM CDT
Aberdeen at St. Cloud - 7:00 PM CDT
Kenai River at Wisconsin - 7:00 PM CDT
North Iowa at Austin - 7:05 PM CDT
New Mexico at Corpus Christi - 7:05 PM CDT
Fairbanks at Springfield - 7:05 PM CDT
Oklahoma at Shreveport - 7:11 PM CDT
Anchorage at MN Wilderness - 7:15 PM CDT
El Paso at Lone Star - 7:30 PM CDT
Bismarck at Minot - 7:35 PM CDT
SAT, OCTOBER 1
Philadelphia at Johnstown - 7:00 PM EDT
Northeast at Maine - 7:00 PM EDT
Maryland at New Jersey - 7:00 PM EDT
Fairbanks at Springfield - 6:05 PM CDT
Janesville at Chippewa - 7:00 PM CDT
Aberdeen at St. Cloud - 7:00 PM CDT
Kenai River at Wisconsin - 7:00 PM CDT
New Mexico at Corpus Christi - 7:05 PM CDT
Austin at North Iowa - 7:10 PM CDT
Oklahoma at Shreveport - 7:11 PM CDT
Minot at Bismarck - 7:15 PM CDT
Anchorage at MN Wilderness - 7:15 PM CDT
El Paso at Lone Star - 7:30 PM CDT
SUN, OCTOBER 2
Anchorage at MN Wilderness - 5:15 PM CDT