September 23, 2022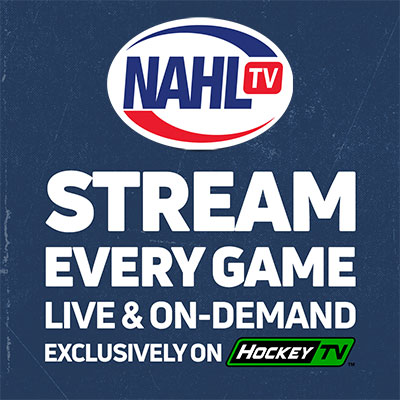 Coming off another incredible Showcase, the NAHL gets into the first full weekend of teams hosting regular season games as 25 games are on the schedule Friday and Saturday.
The 19th annual NAHL Showcase took place last week with all 29 NAHL teams in attendance. Over 250+ NHL and NCAA scouts checked in during the event and the NCAA Division I commitments have already begun.
This weekend in the Central Division, the 1st place and 4-0 Austin Bruins will put their unbeaten streak on the line with a home-and-home series against St. Cloud. Bismarck is still looking for their first win as they visit Aberdeen, and North Iowa is in Minot for a two-game set against the Minotauros.
In the East, the New Jersey Titans are still looking for their first win as they travel to Danbury, who also went winless at the Showcase. The Philadelphia Rebels play their inaugural NAHL home game as they host the 1st place Maryland Black Bears. The Johnstown Tomahawks will be at Northeast for the Generals home opener. Maine is idle.
In the Midwest, both Kenai River and Anchorage spoiled a pair of home openers on Thursday as the Brown Bears beat Janesville and the Wolverines beat Chippewa. The teams will do battle for two more games on both Friday and Saturday. In the final series in the Midwest, the NAHL makes its debut at The Dome in Eagle River, Wisconsin as the Windigo host the Fairbanks Ice Dogs.
In the South, it's a fully loaded schedule with all eight teams in action. The Amarillo Wranglers put their undefeated record on the line as they travel to Shreveport for the Mudbugs' home opener. El Paso is in Corpus Christi for the IceRays home opener. Odessa is in New Mexico, as the Ice Wolves will raise their South Division Playoff Champions banner. Oklahoma puts their undefeated record on the line with one game at Lone Star on Saturday.
Watch all the action on HockeyTV
Download the all new NAHL App today! (iOS - Google Play)
FRI, SEPTEMBER 23
New Jersey at Danbury - 7:00 PM EDT
Johnstown at Northeast - 7:00 PM EDT
Anchorage at Chippewa - 7:00 PM CDT
Kenai River at Janesville - 7:00 PM CDT
Maryland at Philadelphia - 8:00 PM EDT
Austin at St. Cloud - 7:00 PM CDT
Fairbanks at Wisconsin - 7:00 PM CDT
El Paso at Corpus Christi - 7:05 PM CDT
Amarillo at Shreveport - 7:11 PM CDT
Bismarck at Aberdeen - 7:15 PM CDT
Odessa at New Mexico - 6:30 PM MDT
North Iowa at Minot - 7:35 PM CDT
SAT, SEPTEMBER 24
New Jersey at Danbury - 7:00 PM EDT
Johnstown at Northeast - 7:00 PM EDT
Maryland at Philadelphia - 7:30 PM EDT
Anchorage at Chippewa - 7:00 PM CDT
Kenai River at Janesville - 7:00 PM CDT
Fairbanks at Wisconsin - 7:00 PM CDT
St. Cloud at Austin - 7:05 PM CDT
El Paso at Corpus Christi - 7:05 PM CDT
Amarillo at Shreveport - 7:11 PM CDT
Bismarck at Aberdeen - 7:15 PM CDT
Oklahoma at Lone Star - 7:30 PM CDT
Odessa at New Mexico - 6:30 PM MDT
North Iowa at Minot - 7:35 PM CDT