NAHL debuts Short Shifts podcast
September 13, 2022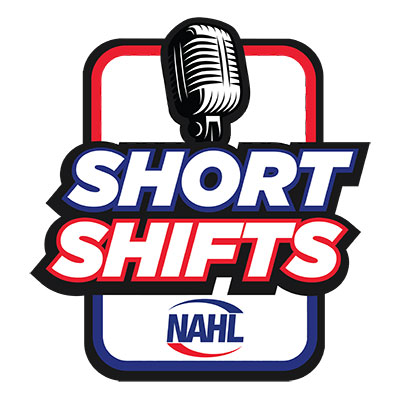 The North American Hockey League (NAHL) is excited to announce the Short Shifts Podcast.
The show will be hosted by Brandon Hofstra, who is the Manager of Digital Media and Design for the NAHL, along with Vinnie Pericelli who is the Director of Digital Media and Broadcasting.
The podcast will focus on upcoming games, league events, rivalry matchups and current player interviews.
Short Shifts will also invite former NAHL players and coaches who have advanced to higher levels of hockey including the NCAA, ECHL, AHL, and the NHL. Along with player interviews, the podcast would like to invite current employees of the NAHL on to the show to exemplify what their roles are and talk about the League of Opportunity. Short Shifts will also mention NA3HL and NAPHL events and standout players.
Short Shifts will be a biweekly podcast that will be released on Thursdays on SoundCloud and Apple Podcasts. Along with recording the show at the NAHL office, the show can and will be recorded on the road at events (Showcase, Top Prospects Tournaent, Fraser Cup, Combines, Robertson Cup)