NA Now: Danbury Jr. Hat Tricks
September 2, 2022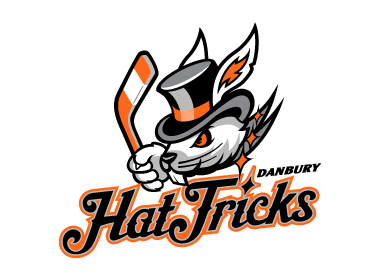 The NA Now series features a look at all 29 teams in the NAHL for the 2022-23 season, with a new team being highlighted daily, leading all the way up until the start of the regular season. NA Now looks into each NAHL team including interviews with all the head coaches in the NAHL, as they provide fans with their expectations and outlook for the season, including taking a look at their strengths as a team and thoughts on the league. It will also take a look back on last season and how each team fared and what they accomplished.
Danbury Jr. Hat Tricks
Head Coach: Matt Voity (1st Season)
2021-22 record: 60 GP, 12-42-6, 30 pts. (7th in the East Division)
2021-22 leading scorer: Gabe Dombrowski (48 points)
2022 Playoffs: Did not qualify
2022-23 Division: East
First regular season game: Friday, September 9th vs. Johnstown Tomahawks
Home opener: Friday, September 9th vs. Johnstown Tomahawks
The 2021-2022 season did go the way the Danbury Jr. Hat Tricks had hoped. The team struggled out of the gate losing eight of their first 10 games, including a 1-3 stretch at the NAHL Showcase. Things didn't really improve for the Jr. Hat Tricks as the season progressed as they won back-to-back games just once all season. Danbury struggled on both sides of the ice as they gave up an NAHL worst 4.3 goals per game. The offense wasn't much better as it ranked 26th out of 29 NAHL teams, scoring 2.55 goals per game. While the power play unit saw some success, being down a man proved to be deadly for Danbury as their penalty kill ranked last in the league at 64.5%.
While the Jr. Hat Tricks look to change their fortunes on the ice, there will be a change behind the bench. Billy McCreary was promoted within the organization after two seasons with the NAHL team, opening the door for Matt Voity to take the helm. Voity was the former assistant coach for the team and looks forward to his new role with the club.
"I think it's a great opportunity to reimagine some things, with our first two years of the league dealing with COVID, it was a big challenge. We weren't able to implement some things that I think under normal circumstances we would. I think this year we can go forward, there's no COVID, there's no issues we haven't dealt with or need to be dealt with, we can just go forward and really implement a strong hockey culture," said Voity.
Watch: Invterview with Danbury head coach Matt Voity
"I expect us to take some big steps in terms of our culture and how we do things on a day-to-day basis, that's going to be the main focus for us, you know really having pride when we come to the rink everyday and protecting our culture and how we do things," continued Voity. "Obviously there will be X's and O's and what not but culture has to come first. Once we build that, the X's and O's get a bit easier."
The Jr. Hat Tricks return quite a bit of forward depth from last season, the 03 birth year Luka Sukovic leads the group of forwards coming back. The Lincolnshire, Illinois native scored 11 goals and 28 points through 49 games played last season. Andrew Eberling spent the whole season in Danbury, potting nine goals and 23 points for the orange and black. Forwards Robert Hyde and Miles Harrington also return for another year in the Hat City. Hyde, a native of North Babylon, New York will begin his third and final season in Danbury. He notched 11 goals and 18 points in 42 games a season ago.
Harrington will also be entering his final season of junior hockey. The McDonough, Georgia product had six goals and 15 points in 57 games. Peter Lajoy joined the team midway through last season from Wichita Falls. The University of Denver commit had 3 goals and 10 points. Jake Howard leads the returning blue liners. From Pompton Lakes, New Jersey, Howard lit the lamp three times and finished with 13 points through 54 games played
In between the pipes, Danbury has three returners who all saw decent playing time last season. Adam Johnson leads the way with the most experience. He saw action in 24 games a year ago. He sported a 3.86 goals against average with a .894 save percentage as he heads into his final junior campaign. Connor McDonough joined the team in March and got six starts with the club in addition to seven with the El Paso Rhinos. He just turned 18 and stands a 6-foot-5. Finally Marino Ramirez got 11 appearances with Danbury after joining the team in February. He has seen action in 18 NAHL games over the last two seasons.
"All three of our goalies played a considerable amount for us last year so I have high expectations for all three of them to be perfectly honest. I've had those conversations with them, they've embraced it and they are ready to go," said Voity about his men in the crease.
With the reigning Robertson Cup champions in their division, the Danbury Jr. Hat Tricks are hopeful that their veteran core and a new face behind the bench can help turn things around and get them where they want to go, the Robertson Cup playoffs.
Next Up: Corpus Christi IceRays