NA Now: Johnstown Tomahawks
August 29, 2022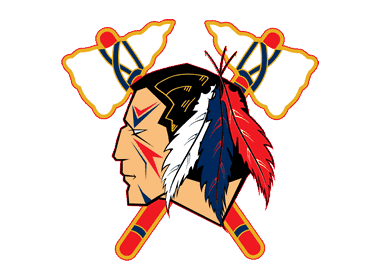 The NA Now series features a look at all 29 teams in the NAHL for the 2022-23 season, with a new team being highlighted daily, leading all the way up until the start of the regular season. NA Now looks into each NAHL team including interviews with all the head coaches in the NAHL, as they provide fans with their expectations and outlook for the season, including taking a look at their strengths as a team and thoughts on the league. It will also take a look back on last season and how each team fared and what they accomplished.
Johnstown Tomahawks
Head Coach: Mike Letizia (8th Season)
2021-22 record: 60 GP, 34-20-6, 74 pts. (2nd in the East Division)
2021-22 leading scorer: Jake Black (79 points)
2022 Playoffs: Lost to Jamestown East Division Semi-Finals, 3-2
2022-23 Division: East
First regular season game: Friday, September 9th vs. Danbury Jr. Hat Tricks
Home opener: Friday, October 1st vs. Philadelphia Rebels
For the fourth consecutive year, the Johnstown Tomahawks found themselves near the top of the East Division standings and in the Robertson Cup playoffs. They were bolstered by one of the league's top offenses, scoring 3.75 goals per contest. Despite losing one of their top defensemen and starting goaltender to the college ranks midseason, the Tomahawks finished second in the tightly contested East Division. They played in one of closest playoff series in recent memory, losing to the Jamestown Rebels in the division semifinals in five games. 11 players from last year's roster found homes in the NCAA, including seven Division I commitments.
"Last season I thought, all things considered wasn't too bad. We had some good Division I commitments, lost our number one defenseman and our starting goalie within a few weeks of each other. It's a great situation for us moving guys on, but as awesome as it is they are tough to replace. Like everyone, we battled a few injuries, but we worked ourselves into second in the East. Played a great playoff series with Jamestown and unfortunately lost in Game 5. It was a tough pill to swallow but looking back on it, it was a decent season but certainly not where we wanted to end up," said Johnstown head coach Mike Letizia.
The Tomahawks offense ranked fifth overall in goals per game, defensively the Tomahawks ranked 13th in keeping the puck out of their net. Surely the loss of Dustin Geregach and Sam Evola didn't help. A big help to that offense is being good with the man advantage. Johnstown scored on 24.1 percent of its power play opportunities, that ranked seventh among all 29 NAHL teams. The penalty kill was even better for Johnstown, killing off 84.5 percent of their chances down a man.
Watch: Interview with Johnstown head coach Mike Letizia
The Tomahawks have a good core returning to Johnstown in 2022-23, up front forwards like David Matousek and Ryan Vellucci will take on leadership roles in their final seasons of junior hockey. Matousek is a Czech forward who just played his first full season in the NAHL. He registered 10 goals and 25 points through 58 games. Ryan Vellucci is a native of Northville, Michigan. He played in all 60 regular season contests for the Tomahawks in 2021-22. He found the back of the net five times and finished the year with 16 points.
On the blue line, Ethan Perrault will anchor the big-bodied unit. As a rookie last season, the Tips City, Ohio product scored once and had 17 points to go with a plus-18 rating in 59 games. He also picked up a goal in the postseason series with Jamestown. The Tomahawks return two veteran goaltenders to the blue paint this upcoming season. Matthew O'Donnell played in 20 games for Johnstown last season after starting the season in Wichita Falls. The netminder from Waterbury, CT had a record of 19-9-6 sporting a 2.72 goals against average and a .901 save percentage to go with one shutout. Dominik Wasik started the year with Aberdeen before moving over to Johnstown. For the year, he went 15-10-1 with a 3.31 goals against and a .890 save %.
"We have a few forwards up front that can return, Velucci and Matousek came back to camp and are looking really strong. On the back end, Ethan Perrault was a rookie for us, actually won the rookie of the year award for our team so he did a great job. We have some big bodies on the back end that will hopefully help out. We've got two veteran goalies returning in net so how things play out will ultimately be up to us but there's a core there that we can hopefully branch out with our tenders, our draft picks and we have some quality free agents as well that can hopefully make an impact in our lineup," Letizia said.
After reaching the Robertson Cup back in 2019 and seeing New Jersey take home the title this past spring, the Tomahawks are eager to get back on the ice and put their name on the NAHL's ultimate prize. "Well, we've put ourselves in a position the last few years either to be at the top or near the top of the East Division, those expectations don't change," Letizia said. "Obviously New Jersey won the Robertson Cup last year, they are going to be strong again and a lot of teams in our division always are. Our goals obviously are to get back to the top of the East and then hopefully get ourselves back to Minnesota for the Robertson Cup."
Next Up: Janesville Jets