NA Now: Kenai River Brown Bears
August 28, 2022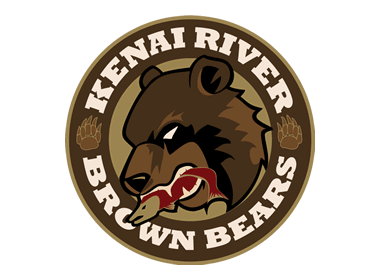 The NA Now series features a look at all 29 teams in the NAHL for the 2022-23 season, with a new team being highlighted daily, leading all the way up until the start of the regular season. NA Now looks into each NAHL team including interviews with all the head coaches in the NAHL, as they provide fans with their expectations and outlook for the season, including taking a look at their strengths as a team and thoughts on the league. It will also take a look back on last season and how each team fared and what they accomplished.
Kenai River Brown Bears
Head Coach: Taylor Shaw (2nd Season)
2021-22 record: 60 GP, 14-41-5, 33 pts. (8th in the Midwest Division)
2021-22 leading scorer: Cole Dubicki (55 points)
2022 Playoffs: Did not qualify
2022-23 Division: Midwest
First regular season game: Wednesday, September 14th vs. Danbury Jr. Hat Tricks
Home opener: Friday, October 14th vs. Fairbanks Ice Dogs
After coming within one game of making the Robertson Cup in 2021, any momentum that the Kenai River Brown Bears had built during the post-pandemic 2020-21 season came tumbling down in 2021-22. The team got off to a 1-10 start and was behind the 8-ball from the get-go.
After 22 games and just a 4-18-0 record, the team made a change behind the bench as head coach Josh Dubinsky was let go and assistant coach Taylor Shaw took over as interim head coach. The team responded much better in December, posting a 3-1-3 record under Shaw. However, it was clear that the slow start doomed any hopes of a playoff chance for the Brown Bears, and the rebuild for the 2022-23 season was on.
The leading scorer for much of the season, Cole Dubicki, was traded to the Springfield Jr. Blues, but did end up with an NCAA commitment. Another bright spot for the Brown Bears was the emergence of rookie forward Bryce Monrean, who ended the season 2nd in team scoring with 38 points and also secured an NCAA Division I commitment to the University of Alaska-Fairbanks.
The next order of business for Kenai River once the season was over, was to secure a new head coach. At the end of April, the team announced that interim tag was being taken off Shaw who would remain with the club as the new full-time head coach. "I was very honored to be selected. I felt like the timing was good because it gave me a full off-season with the staff to build for this upcoming season. I think we have great support in the community, and it is a special place, so I was excited to be able to be a head coach in the NAHL," said Shaw.
Watch: Interview with Kenai River head coach Taylor Shaw
Shaw, who came to Kenai River during the 2020-21 season after coaching with the Gillette Wild in the NA3HL from 2018-20, also had some new faces on his staff in Assistant Coaches Dean Weasler and Jake Leitner. Weasler, a former St. Cloud State University goaltender, joined Shaw on staff last season as an assistant coach. Weasler brings eighteen years of coaching experience following a decorated playing career. Leitner, a former NAHL grad, spent four seasons in the league between the Bismarck Bobcats and Aberdeen Wings.
As for building a team for the upcoming 2022-23 season, Shaw said that there was nowhere to go but up. "It is basically ground zero for us. We know we have to get off to a better start and be ready to go from Game 1," said Shaw. "We had the ability to bring back quite a few veteran guys, so that gives us some positive vibes headed into training camp and into the season. A lot of the veterans coming back from last year understand the way we want to play and that will make the transition much easier for everyone this year."
The Brown Bears only had six selections in the 2022 NAHL Draft, but it was clear they had a plan, selecting five forwards and a defenseman. Offense was hard to come by last season for the club, as they ranked 28 out of 29 in goals scored per game at just 2.45 per contest. The team was also ranked 28th in goal allowed per game at a 4.27 clip. "The Draft is a neat process, and we have a great staff in Kenai River, so a lot of work and thought went into who we wanted to take. We had to improve in all areas and think we did," said Shaw.
As for some key returning players, the Brown Bears do return 18-year-old goalie Bryant Marks, who put up some decent numbers last season, which included a 31-save shutout during the last regular season game. Forwards Noah Holt and Nick Stevens both return to the line-up. Holt was acquired from the Springfield Jr. Blues and had nine points in just 16 games with the Brown Bears last season. Stevens had 17 points in 46 games played. Veteran defenseman Caleb Huffman will also return for his third season of junior hockey.
"We are just excited to get the season going. The NAHL Showcase is a great experience and opportunity for our players. It's fun to be able to play teams from other divisions that you do see any other time during the season and that's elevated by the number of scouts there. We will be ready," said Shaw.
Next Up: Johnstown Tomahawks