August 26, 2022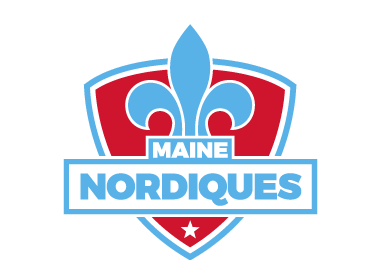 The NA Now series features a look at all 29 teams in the NAHL for the 2022-23 season, with a new team being highlighted daily, leading all the way up until the start of the regular season. NA Now looks into each NAHL team including interviews with all the head coaches in the NAHL, as they provide fans with their expectations and outlook for the season, including taking a look at their strengths as a team and thoughts on the league. It will also take a look back on last season and how each team fared and what they accomplished.
Maine Nordiques
Head Coach: Matt Pinchevsky (2nd Season)
2021-22 record: 60 GP, 22-27-11, 55 pts. (6th in the East Division)
2021-22 leading scorer: Aidan Connolly (51 points)
2022 Playoffs: Did not qualify
2022-23 Division: East
First regular season game: Friday, September 9th vs. Northeast Generals
Home opener: Friday, September 9th vs. Northeast Generals
A year after taking home the NAHL's East Division playoff championship and advancing to the Robertson Cup in 2021, the Maine Nordiques went through some turnover during the 2021-22 season. They revamped the roster with several good young players and also had a change behind the bench in the middle of the season. The Nordiques struggled in the beginning of the year but finished the year playing well and were able to commit 12 players to NCAA programs, nine of those at the Division I level. Now with a full offseason under his belt, head coach Matt Pinchevsky is confident this group of Nordiques will be right back in the playoff hunt.
"Last year we had some change and from that change we saw some areas we wanted to improve on and iron out some of those details. We were middle of the pack on the penalty kill and we really want to improve that aspect of our game and get that elevated to the top of the division or best in the league," said Pinchevsky. "We wanted to make sure we got better in the net so we allocated a few assets, tendered a couple goaltenders and had some free agent goaltenders come in and were looking forward to that at training camp."
Where the penalty kill was average, the power play shined. The Nordiques had the league's second most potent power play at 26.9 percent. With the boost on the man advantage, the Nordiques posted 3.33 goals per game, good for 11th in the NAHL. If Maine wants any chance to return to the Robertson Cup Playoffs, they will have to keep the puck out of their net. They gave up 243 goals last season, just over four goals per contest. That ranked third worst among the NAHL's 29 teams. The Nordiques will also need to improve in overtime. Maine suffered 11 losses in overtime or a shootout in 2021-22.
Watch: Interview with Maine head coach Matt Pinchevsky
Looking forward to the 2022-23 season, the Nordiques have plenty of veteran pieces to build around including All-Rookie defenseman Nicholas Bernardo. The Hauppauge, NY native had six goals and 37 points in his first campaign in the NAHL, leading all Maine defensemen. He is committed to Brown University and will anchor the Nordiques blue line. "He might be the most excited to come back, he's texting every day. He's buzzing at home with his training," Pinchevsky said. "Brendan Gibbons has been receiving a lot of Division I attention this offseason, he's got a couple of visits coming up after having a hot second half of the season once he was healthy. Guys like Jonny Meiers, Patrick Schmiedlin and Flip Wiberg are going to be staples in the lineup."
Gibbons only appeared in 37 games but still finished with 20 goals, third most on the Nordiques roster. He had 34 points to give him 0.92 points per game, good for second most on Maine. Meiers is back for his third and final season in the NAHL and second with the Nordiques. He picked up 12 goals and 27 points in 48 games last season and is committed to Colorado College. Patrick Schmiedlin, also a Colorado College commit, is ready for his season in the Nordiques organization. He only appeared in 44 regular season games, but picked up 14 goals and 28 points on the year. Throughout his 74 game NAHL career, Schmiedlin has produced 25 goals and 46 points. Norwegian forward File Wiberg will be in his final year of junior eligibility this season. Wiberg picked up seven goals and 16 points through 43 games last year.
The Nordiques will also have an opportunity early in the season to see where they truly stand as they will take on the United States National Team Development Program-17 team in the final game of the NAHL Showcase, in which scouts from every Division I program and many National Hockey League teams will certainly be in attendance. "The boys would call it electric but it's an honor to be honest. That game may be circled on the calendar but they're all important to us. Bottom line, we were very fortunate that the league recognized we've got the caliber of a team to go out there and compete and earn some points. Even though they don't count in the standings, we want those points," said Pinchevsky.
With a full offseason for Pinchevsky, coupled with a handful of veteran returners and some fresh faces, the Nordiques seem ready to jump back into the playoffs and have a shot getting back to the Robertson Cup.
Next Up: Lone Star Brahmas