August 23, 2022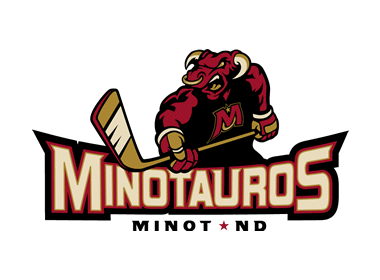 The NA Now series features a look at all 29 teams in the NAHL for the 2022-23 season, with a new team being highlighted daily, leading all the way up until the start of the regular season. NA Now looks into each NAHL team including interviews with all the head coaches in the NAHL, as they provide fans with their expectations and outlook for the season, including taking a look at their strengths as a team and thoughts on the league. It will also take a look back on last season and how each team fared and what they accomplished.
Minot Minotauros
Head Coach: Cody Campbell (2nd Season)
2021-22 record: 60 GP, 28-29-3, 59 pts. (5th in the Central Division)
2021-22 leading scorer: Huston Karpman (52 points)
2022 Playoffs: Did not qualify
2022-23 Division: Central
First regular season game: Wednesday, September 14th vs. Oklahoma Warriors
Home opener: Friday, September 23rd vs. North Iowa Bulls
After nine consecutive playoff appearances, the Minot Minotauros postseason run finally came to an end. 2021-22 was a roller coaster of a season for the Minotauros as they started slow out of the gate but rebounded with a solid fall. They struggled around the holidays and picked it back up in the days leading up to and after the trade deadline.
Unfortunately, Minot saw their season come crashing down with a 2-7-1 record in their final 10 games of the regular season. Despite their inconsistencies, Minot controlled their own destiny with a winner-take-all game on home ice against the Bismarck Bobcats on the final day of the regular season. The Bobcats won 5-1 and eliminated the Minotauros from playoff contention.
Returning head coach Cody Campbell got his first full off-season with Minot after being hired as the head coach in early September last season, just days before the NAHL Showcase kicked off the season. He's ready to get the Tauros back into the Robertson Cup Playoffs. "We came up short of our goal obviously, but we had a fantastic group of kids and ended up with nine commitments off that team and they were a group of guys that made it fun year to be around the rink. We'll return a lot of experience from that group," said Campbell.
Last season the Minotauros struggled offensively as they averaged just 2.88 goals per game, good for 22nd out of 29 NAHL teams. Their power play may be to blame as the special teams unit clocked in at just 15.5%, which ranked 24th overall. Defensively, Minot was right in the middle of the pack, allowing 3.07 goals per game, tied for 13th best in the NAHL. The penalty kill was also tied for 13th in the league, sitting at 81.6%.
Watch: Interview with Minot head coach Cody Campbell
"The biggest thing for us was to improve our overall depth and make sure that areas that we lost we were able to replace through our tenders and draft picks. We also did that through a trade as well here in the offseason," Campbell explained. "We lost many of our top scorers, but our top goal scorer comes back. So, we had to replace some offense, we have a good returning group on the back end and wanted to fill out that d-core."
The top goal scorer from last season is Kolby Joseph who is set to return for his second stint in Minot. The Brandon, Manitoba native led the team with 23 goals and finished with 35 points in 57 games played. Trevor Stachowiak comes back for what will be his 3rd season in Minot. He's played 100 NAHL games and has eight goals and 35 points in his junior career.
Minot made a big splash in the offseason as they acquired Hunter Longhi in late May. From Colinsville, Illinois, Longhi will be entering his fourth and final junior season. He spent his first year with the Springfield Jr. Blues and the last two seasons with the Minnesota Magicians. Longhi had his best season last year as he led the Magicians in goals, assists and points, with 26, 36 and 62 respectively. He also brings some playoff experience to Minot as he reached the Robertson Cup with Minnesota in 2021, scoring two goals in two games.
On the back end, Campbell is looking at Ben Johnson and Nicholas O'Hanisain to lead the blue liners. Johnson is entering his second year with Minot and third year of juniors overall after spending the 2020-21 season with the Willmar WarHawks of the North American 3 Hockey League. He netted 5 goals and 16 points in 40 games with Minot last year. O'Hanisain joined the Tauros late in the year and put up a goal and three points in 18 appearances. The Detroit native is entering his final junior season.
"The returners know what the expectation is and what the culture is in Minot. Stachowiak is an awesome power forward who is a great leader and can hopefully take a step offensively. On the back end, those guys played power play minutes for us will be back and we expect a lot out of them," said Campbell.
One game separated Minot from the Robertson Cup playoffs last season. In the always tightly contested Central Division, every game means that much more. Campbell is hoping the returners he has mixed in with some offseason additions can help get his team back into the postseason picture.
Next Up: Minnesota Wilderness