NAHL Friday Finals: Jamestown wins big road game in Michigan
October 22, 2011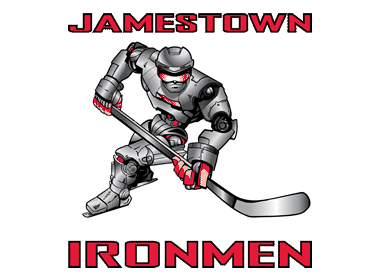 Jamestown 4 @ Michigan 3
The struggling Jamestown Ironmen were looking for someone to step up to help eradicate their struggles away from home. That player turned out to be Anthony Coles, who netted his second hat trick to pace the Ironmen to an impressive 4-3 North American Hockey League victory against the first-place Michigan Warriors.
Coles scored early, stealing the puck at center ice and streaked into the Warriors zone, putting a shot past goalie Gabe Grunwald for a 1-0 lead. The Warriors managed to tie the score at 1-1 on a bad-angle shot from James Kline with less than two minutes left in the first period.
The Ironmen's offense heated up in the second period as Coles scored his second of the night on a power play with an unbelievable wrist shot that trickled across the goal line after hitting the goalie and Nick Bingaman added another Jamestown goal later in the period for a 3-1 advantage.
The Warriors weren't finished, taking advantage of a Jamestown miscue in the defensive zone and Bobby Bodette fed Chris Eckler for a goal that cut the Ironmen lead to 3-2. The Warriors started strong in the third period and tied the score just 1:38 in, but the Ironmen continued to battle before Coles completed his hat trick with a rebound goal to give his team the 4-3 lead.
The Warriors pressed for the tying goal late in the game and goalie Joe Ballmer had to make a couple of important saves, but none was more important than a toe save on A.J. White with the Ironmen on the power play. Ballmer made 22 saves on his way to his fourth victory of the season. The Ironmen outshot the Warriors 34-25 in the game.
Kalamazoo 1 @ Port Huron 3, Boxscore
Janesville 3 @ Traverse City 2, Boxscore
St. Louis 4 @ Coulee Region 2, Boxscore
Chicago 5 @ Springfield 3, Boxscore
Amarillo 6 @ Wichita Falls 2, Boxscore
Bismarck 4 @ Aberdeen 1, Boxscore
Fairbanks 3 @ Alaska 4, Boxscore
Austin 1 @ Alexandria 5, Boxscore
Dawson Creek 3 @ Minot 1, Boxscore
Topeka 3 @ New Mexico 4 (SO), Boxscore
Kenai River 3 @ Wenatchee 2 (SO), Boxscore