Northeast forward Boczar makes NCAA DI commitment
August 15, 2022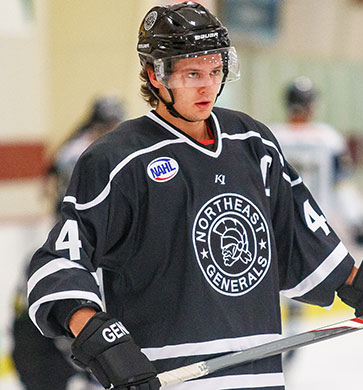 The Northeast Generals of the North American Hockey League are proud to announce that Captain and forward Matt Boczar has committed to play NCAA Division I hockey at Robert Morris University in Atlantic Hockey.
"I am extremely proud and honored to announce my commitment to play Division 1 College Hockey and further my education at Robert Morris University. I would like to give a special thank you to my family, coaches, teammates, friends, and anyone else who has supported me along the way to fulfilling my lifelong dream! #GoColonials#RollGens #RollCity," said Boczar.
Boczar, 21, played two seasons in the NAHL with the Northeast Generals, serving as Captain in his second season. During the 2021-22 season, Boczar had 25 points (6 goals, 19 assists) in 58 games played.
In 91 regular season games overall, the 6'2/185 lbs. native of Sewell, NJ, had 14 goals, 23 assists for 37 points. He added a goal and an assist in 5 playoff games. He appeared in 9 games with the New Jersey Titans and 82 games with the Generals.
What Matt brought to the Generals goes far beyond the box score. "Box is a very special kid. To be completely honest I wasn't very interested in him when he became available and gave GM Matt Dibble a million reasons why. Dibble kept pushing him. So he showed up and he was fine. He showed up the next day and was a little bit better but I told Dibble I didn't think he was what we needed. This was a kid who had been cut by two teams in a month. But he just kept showing up. After 2 weeks I called Dibble and said "this kid will be our captain". And from that point on Matt Boczar just proved Matt Dibble right. He just does everything the right way. He outworks everyone, he is super kind to everyone. The 16U, 18U, NA3 Gens all love him. Just an incredible kid. I am so proud of Matthew. It's great to see a kid work so hard, do everything right at and away from the rink and be rewarded for it. I can't wait to watch him play for Coach Schooley at RMU," said Head Coach Bryan Erikson.
Added Northeast Generals General Manager Matt Dibble, "Huge congratulations to Matt. Nothing was ever given to him, he worked every day for his next opportunity. I am happy to see Matt get to realize his dreams of division one hockey. He was a good player, a great captain, and one of the best people you could ever been around. Coach Schooley and the colonials are getting a good one."
Click here for an updated NAHL to NCAA commitment list