Wilderness name Skinner as Associate Head Coach
August 5, 2022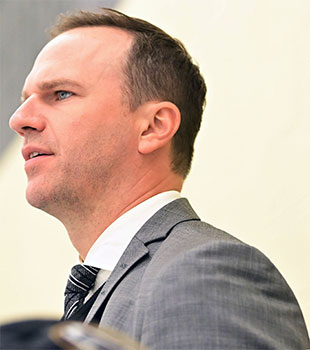 The final piece of the coaching staff puzzle has been put in place for the NAHL's Minnesota Wilderness. Head coach and general manager Dave Boitz has named Brett Skinner as the team's new associate head coach.
Skinner is a Brandon, Manitoba, native who has been the assistant coach of the Sioux Falls Stampede of the USHL for the last five seasons.
Prior to beginning his coaching career, Skinner played 12 seasons of professional hockey, including 11 games in the NHL with the New York Islanders in 2008-09. He also had a very decorated collegiate career, winning two national championships, 2003-04 and 2004-05, over three seasons with the University of Denver. In the 2004-05 campaign, Skinner also claimed WCHA first-team all-star and NCAA second team All-America honors.
Skinner's time in Sioux Falls was spent under the tutelage of head coaches Scott Owens and Marty Murray. He and Owens helped guide the Stampede to a Clark Cup championship in 2018-19. That title was the 2nd in Owens' coaching career as he also led Des Moines to a title in 1998-99 and then spent the next 15 years leading the Colorado College NCAA program. Murray cut his coaching teeth leading the Minot Minotauros for the first 9 seasons of their tenure in the NAHL.
"I've been really lucky to work under two really good head coaches," said Skinner who admits he learned a ton from both Owens and Murray.
"I feel ready for the opportunity after working for two coaches like that," Skinner added. "Both have great hockey minds and have different approaches to the game. It was great to sit back and learn from both of them. Not a lot of people get a chance to work with such high-quality people."
"Brett brings an incredible amount of high-level playing experience and in the past five years has coached under some terrific head coaches," said Boitz. "Brett was not only a great player but has become an excellent teacher and coach. He will be a great asset for our program and the incoming players. I'm beyond excited to get to work with Brett and our entire staff to continue our tradition of developing and moving on players and winning hockey games."
The Wilderness ownership team of Chris Trapp and Joe Dusek issued a joint statement praising Skinner's hiring:
"On behalf of the Minnesota Wilderness owners, we would like to welcome Brett Skinner and his wife Katie and family to the Wilderness organization.
"As we enter our 10th year of operation with Dave Boitz as head coach and GM, we felt it was important to find additional coaching expertise that shares the same passion for player development, on-ice success, and community involvement as Dave. Brett certainly fits that mold perfectly. We are excited for the upcoming season and wish Brett all the best in his new position."
On the coaching staff, Skinner joins Boitz and Kyle Brodie, who was named as a new assistant coach earlier this week.
In Sioux Falls, SD, Brett and Katie have a busy household with two boys, Thomas (4) and William (2).
Skinner says he is excited to make the move to Cloquet and get things rolling for the new season.
"Being in the USHL, you scout and recruit the NAHL, and you know what kind of job the Wilderness have done," he exclaimed. "It's just a great opportunity for me to be part of the development process for the kids, while understanding the impressive history of the Wilderness program."