Minot defenseman Charchenko makes NCAA DI commitment
July 15, 2022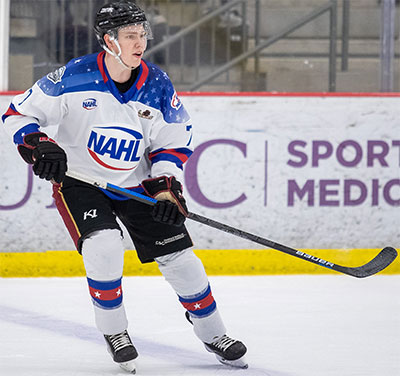 The Minot Minotauros of the North American Hockey League (NAHL) are proud to announce that Top Prospects defenseman Nikolai Charchenko has committed to play NCAA Division I hockey for Colorado College in the NCHC. Charchenko becomes the 80th Tauros NCAA DI College Commit in franchise history and the first to head to Colorado College.
Charchenko, 21, completed his Tauro career with 155 games played, fourth all-time in franchise history, he was able to do that despite Covid interrupting two of his three seasons in Minot.
His Tauro career started with an assist in his first game as an Affiliate Player on April 5, 2019. He followed that up with three full-time seasons, three goals and 26 assists and a +16 rating. All three of his goals came last season and his +9 rating led the 2021-22 Tauros. As his Tauro career came to an end Charchenko penned a letter thanking everyone who made his time in Minot special.
Charchenko had several reasons for choosing Colorado College. "Their history of developing players and pushing them on to higher levels and the many showings in the NCAA tournament. The entire coaching staff has played and coached at high levels, and I am very excited to grow my game under them. A brand-new arena built right on the campus, and the chance to play on a winning team. All of these reasons convinced me to commit to this phenomenal hockey program!"
Charchenko also appeared in the last two NAHL Top Prospects Tournaments in 2022 and 2021, both the Central Division. He recorded a point in each of the events.
"We are thrilled for Nikolai and his family. Anyone that watched Char play for the Tauros over the last 3 seasons would echo the fact that he is extremely deserving of this opportunity. I personally am so proud of Nikolai and excited for him to accomplish his goal of playing Division I college hockey. He was the ultimate Tauro, from how he prepared, how he practiced, how he played, how he conducted himself within the community, he embodies everything our organization is about and to see him be rewarded is extremely exciting. Colorado College is adding a warrior of a hockey player and one of the most genuine people I've ever met to their campus community. We couldn't be more proud of Char," said Tauros Head Coach and General Manager Cody Campbell.
Charchenko, who plans to study engineering said there are several reasons beyond hockey that he is excited to go to Colorado College. "First of all, the size of the school is on the smaller side, which is something I have always wanted, and coming from a small private high school in Minnesota, I know I will feel very comfortable. Another reason is that Colorado College uses a block plan schedule for its classes. I believe this will help me balance my schedule as a student-athlete. Lastly, the location is right in Colorado Springs! I cannot wait to explore what the area has to offer."
Having spent as much time as he has in cream and cardinal Charchenko naturally credits the Tauros with helping him reach his goal, "being a Tauro for the last 3+ seasons has helped me in many ways achieve this dream. This organization's most important goal is to move players onto the next level, and I have seen that happen numerous times over the years. The Tauro organization has instilled many qualities in me that have prepared me to play at the next level. Work ethic, dedication, grit, leadership, commitment, confidence, and character, to name a few. Lastly, the numerous coaches and teammates I have had over the years have helped me develop into the player and person I am to give me this opportunity. Being a Tauro has meant so much to me, I am honored to join the long list of D1 commits that this organization has produced."
The always humble Charchenko was also quick to share the credit of his success, "first, I want to thank my family, especially my parents, for dedicating so much time and effort to my journey thus far. Thank you to my outstanding billet family in Minot, the Boser family, for letting your home be my home over the past few years. The coaches and teammates I have had over the years have helped me get to this point, thank you. Tony Michel and NexLevel hockey, thank you for doing an awesome job promoting me. Lastly, I want to thank the entire Minotauro organization, staff, and community for welcoming me in with open arms and making Minot feel like home. The city of Minot has made this dream of mine a reality. There are many others I could list, so thank you to everyone who has been a part of my journey up to this point!"
Click here for an updated NAHL to NCAA commitment list