Langer returns to Wings as GM; Smith named President
July 13, 2022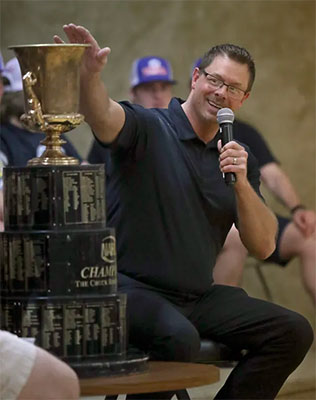 The Aberdeen Wings, proud members of the North American Hockey League (NAHL), are pleased to announce former head coach Scott Langer has rejoined the organization as General Manager & President of Hockey Operations and that Aaron Smith has been promoted to President.
Langer returns after spending six seasons on the bench as Head Coach & General Manager of the Wings. He most recently was the Head Coach of the Fargo Force in the United States Hockey League (USHL). Langer joins head coach Steve Jennings and assistant coach Zach Stepan on the Hockey Operations staff.
"I'm very happy to have Scott coming on in this capacity," Jennings said. "We have always had a very constructive, collaborative relationship and I look forward to continuing that."
Over his 25-year hockey career, Langer has amassed a number of awards and records, including NAHL GM of the Year ('09-10, '20-21) and NAHL Coach of the Year ('10-11, '20-21). He also led the Wings to a Robertson Cup National Championship ('18-19), and a Presidents Cup Championship ('20-21). He was selected as head coach of Team NAHL in the Junior Club World Cup (2019) and helped the Wings earn Organization of the Year honors in '20-21.
In addition to being the NAHL's all-time winningest head coach with 637 wins, he's also helped over 290 junior hockey players reach collegiate hockey ranks.
"I am very happy to be able to announce the return of Scott Langer," Wings owner Greg Odde said. "He brings many years of experience in all aspects of junior hockey back to the Wings. Scott has played a large role in building our championship culture, and I look forward to us continuing to build on that."
"I'm excited to come home to the Wings organization and help continue to build this franchise," Langer said. "After 25 years on the bench, I'm ready to meet the challenge of this next level. Anyone who knows me knows how important family is to me, and returning to Aberdeen feels like coming home. A lot of programs preach "family" but the Wings bring it to life. My wife, Tiffany, and I couldn't be happier to rejoin the Odde family and the Jennings family as I take this next evolutionary step in my career."
Smith started with the Wings in May 2010 as an intern and advanced to Game Day Operations Manager at the start of their inaugural season (2010-2011). Smith was promoted to Director of Operations in 2012 and took over as General Manager in 2021.
"On behalf of the Odde family we would like to thank Aaron for his dedication and loyalty to the Aberdeen Wings," owners Greg and Nancy Odde said. "Aaron has played a big part in what we have accomplished!"
Smith graduated from Northern State University with a Bachelor's Degree in Sports Marketing and Administration and a Masters Degree in Education with a Coaching Emphasis.
"It's an honor to be named to this position by the Odde Family. Being able to learn from Greg and Nancy over the past 13 years made me realize just how much of a commitment is needed to build a successful organization," Smith said. "Each year we make a commitment to our players, community and fans to do everything we can to provide quality, safe entertainment and I intend to do everything I can to fulfill those expectations and continue building for the future."