Danbury announces coaching change
July 12, 2022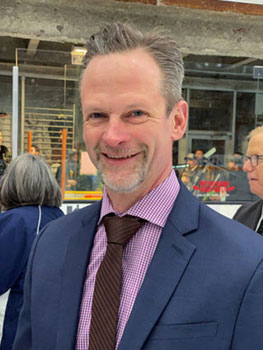 The Danbury Jr. Hat Tricks, proud members of the North American Hockey League (NAHL) have announced a coaching change.
Billy McCreary, who has been the head coach of the NAHL team since the 2020-21 season, has been promoted to President of Hockey Operations and Head Coach for the Danbury Hat Tricks of the Federal Prospects Hockey League (FPHL).
Taking over behind the bench for the NAHL team for the 2022-23 season with be former assistant coach Matt Voity, who has been named the new Head Coach and General Manager.
In his expanded role, McCreary will oversee each of the three hockey teams in the organization: the Hat Tricks in the FPHL and junior teams in the North American Hockey League and North American 3 Hockey League. He will also retain his duties as Hat Tricks general manager.
"It's certainly a new challenge within the game for me and I'm excited for the opportunity to move the organization forward," McCreary said. "We're developing a program, from the junior level to the professional level, that is second to none. It's a responsibility that I don't take lightly, that I'm very passionate about and excited to take on."
Voity just finished his third season as goaltending coach for the Danbury Hat Tricks. He was previously the goaltending coach for the Danbury Mad Hatters of the EPHL for the 2008-09 season. He then worked in NCAA Division I with the AIC Yellow Jackets from 2011-14, and again from 2016-19. He also worked with the University of Massachusetts from 2014–16.
Voity earned his bachelor's degree in psychology from Western Connecticut State University in 2003, where he was a goalie for the school's club hockey team.