NAHL players, past and present, prepare for 2022 NHL Draft
July 7, 2022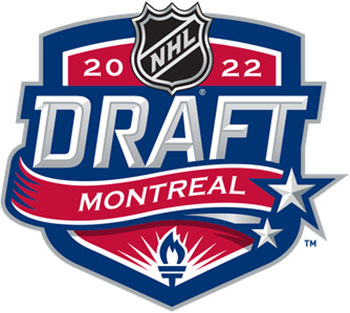 The 2022 NHL Draft takes place the next two days on July 7-8 at the Bell Centre in Montreal, Quebec and will be hosted by the Montreal Canadiens.
The 1st round of the draft will take place on Thursday, July 7th (7:00pm eastern, ESPN/ESPN+). Rounds 2-7 will be conducted on Friday, July 8th (11:00am eastern, ESPN/ESPN+). NHL club executives, scouts and coaches will be present on the NHL Draft floor while thousands of fans and hundreds of print, television and radio media are expected to attend.
The North American Hockey League (NAHL) will have full coverage on any picks on nahl.com, as well as the NAHL's social media channels.
Players born between January 1, 2002, and September 15, 2004, are eligible for selection in the 2022 NHL Entry Draft. Additionally, un-drafted, non-North American players born in 2001 are eligible for the draft; and those players who were drafted in the 2020 NHL Entry Draft, but not signed by an NHL team and who were born after June 30, 2002, are also eligible to re-enter the draft.
Over 100 NHL scouts, including those from NHL Central Scouting, were on hand at the NAHL Showcase back in September, the NAHL Top Prospects Tournament in February, and the NAHL Robertson Cup Championship in May.
Back in May, the NHL Central Scouting final rankings were released for the 2022 NHL Draft and several NAHL players, both past and present, were on the list as players who could potentially be drafted in the 2022 NHL Draft.
Current NAHL players on the list
Luca Di Pasquo, G, Maryland Black Bears
Leo Gruba, D, St. Cloud Norsemen
Barrett Hall, F, Minnesota Wilderness
Aaron Pionk, D, Minnesota Wilderness
Tristan Sarsland, D, Fairbanks Ice Dogs
Former players on the list
Paxton Geisel, G, Dubuque Fighting Saints/USHL (St. Cloud Norsemen, 2020-21)
Luke Pavicich, G, UMass/Hockey East (Kenai River Brown Bears, 2020-21)
Zam Plante, F, Chicago Steel/USHL (Minnesota Wilderness, 2020-21)
Eric Pohlkamp, D, Cedar Rapids Roughriders/USHL (Minnesota Magicians, 2020-21)
A total of 33 players with NAHL ties have been selected in the past seven years of the NHL Draft.
So far this season, the NAHL has had 323 NCAA commitments, over 76% of which are NCAA Division I commitments.