Rebels name Hale as new Head Coach, GM
June 29, 2022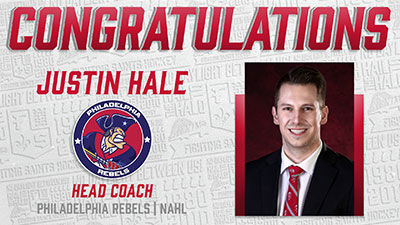 HSG Hockey, LLC, the ownership group of the NAHL's Philadelphia Rebels, is pleased to announce the coaching staff for their inaugural season at Hollydell Ice Arena in Washington Township, NJ.
Justin Hale has joined the franchise as head coach and general manager and Matt Gaudreau has joined the team as assistant coach.
Hale spent 3 seasons as an assistant coach with the Dubuque Fighting Saints of the USHL. At Dubuque, Hale had responsibility for the forward group while also running the penalty kill and serving as coaching staff liaison for team academics. Prior to joining Dubuque, Hale served as an assistant coach, director of player personnel and goalie coach for the Lone Star Brahmas in the NAHL. Prior to Lone Star, he was an assistant coach and goalie coach for Bemidji State University and a volunteer assistant for the Madison Capitals of the USHL.
As a player, Hale was a 4-year letter winner at the University of Wisconsin – Stevens Point. Hale was a defenseman on the 2-time NCAA Division III runner up (2014 and 2015). During his career the team boasted 74 wins and two 20-win seasons. Hale earned his bachelor's degree in Business Administration with a concentration in Finance and an Economics minor in 2015.
"Justin impressed throughout his evaluation process. He is a mature professional who has a clear passion for hockey, communicates well and has a strong history of player development," said Jim Mackey, HSG Hockey, LLC Managing Member. "Justin is a perfect fit for the Philadelphia Rebels and Hollydell Ice Arena. His experience in the NCAA, USHL and NAHL give him a unique perspective on player development and advancement. He is a knowledgeable, detail-oriented coach who connects well with his players. We couldn't be more excited that he is joining the Rebels and our Hollydell community."
South Jersey native Matt Gaudreau will serve as the club's assistant coach. Gaudreau just concluded his first season as the assistant coach of the NCDC's Philadelphia Hockey Club playing out of Hollydell. Prior to coming home to Hollydell, Gaudreau played 3 years of professional hockey in the AHL and ECHL. He had a 4-year career at Boston College, setting career highs in goals, assists and points his senior season. Previously Matt played two seasons with the Omaha Lancers of the USHL. He grew up in Carneys Point, NJ and started his playing career at Hollydell.
"We are excited to have Gaudreau stay at Hollydell to serve on the Rebels staff," said Mackey. "Matt is a local success story who has played at a very high level. He impressively translated his playing success to his role as an assistant coach with PHC, and will be a tremendous asset for the Rebels."