IceRays name Sylvain Cloutier as next head coach
June 22, 2022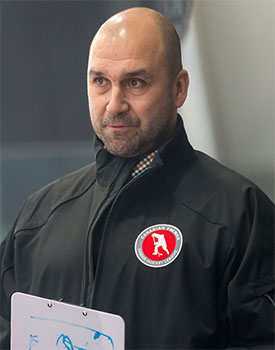 The Corpus Christi IceRays, proud members of the North American Hockey League (NAHL), have named Sylvain Cloutier the eighth Head Coach in IceRays history in the junior era, the team announced on Wednesday.

"We are excited to welcome back a familiar, high-caliber coach in Sylvain for a new era," said Cassidy Lange, IceRays President. "He is a proven winner both as a player and as a coach with multiple championships to his name, and his philosophy fits what we are looking for. We believe he is the right person to take our team to the next level, and we are lucky to have him in the Coastal Bend again. Welcome back to Corpus Christi!"

Cloutier, 48, joins the IceRays after serving four years as Head Coach & General Manager of the Severn Stallions in the Canadian Premier Junior Hockey League (CPJHL) beginning in 2017-18. The Mont-Laurier, Que. native led the Stallions to a 106-21-3 record over his three seasons as Head Coach and earned back-to-back CPJHL Championships in 2018 and 2019 while also tabbing the 2017-18 regular season championship with an impressive 42-2-0 record. The Stallions have not played since the 2019-20 season due to the pandemic. Cloutier began his junior coaching career with the Bradford Rattlers (GMHL) in 2014-15 and helped the team to a 31-11-0 record.

Cloutier becomes the second coach in IceRays history to coach in both the professional and junior eras after making his coaching debut in 2008-09 and earning a 21-25-4 record in 50 games, joining Brent Hughes, who succeeded Cloutier that season. He would continue his coaching career as a player-assistant coach in the EIHL with the Hull Stingers for five seasons from 2009-14.
"I'm really excited to get started," said Cloutier. "They reached out to me, and we had a lot of conversations. The more we talked, the better the opportunity sounded. I've known [Ryan Bennett] for a long time, so it was an easy decision at the end of the day.
"The main thing is wanting to promote our players and get them to the next level. We want to win, but we also want to show them that we're here to help them get better and move up. I was a rookie head coach when I was here, and it was a learning experience. I've learned to be pretty open with my players and get to know them. That way, we can get to know each other, and that allows me to better help them. There are days where a player is going to be off, and it's your job to figure out what's going on. At the end of the day, I'm there to help them."

The former center played 1,202 professional games across six leagues spanning from 1993-94 through 2013-14, including seven games in the NHL with the Chicago Blackhawks from 1998-99. He was a member of the AHL's 2003 Calder Cup Championship with the Houston Aeros and helped the Coventry Blaze (EIHL) to back-to-back EIHL Championships in 2007 and 2008 while serving as an assistant captain then team captain. Most of his career was in the AHL, tallying 86 goals and 188 assists for 274 points with 1,073 penalty minutes through 565 games over 10 seasons. In total, Cloutier amassed 826 points (282g, 544a) and 2,073 penalty minutes over his 19-year professional career.

"A lot has changed since I was a player, but one thing that hasn't changed is that you've got to compete. As a player, I was known for my hard work and being a competitor. As a coach, I don't like losing. If you compete, then you have a chance on any given night. You can have all the talent in the world, but if you don't compete then it won't get you anywhere."

Information regarding the team's assistant coach will be announced later this summer.