Odessa forward Manzo makes NCAA commitment
June 6, 2022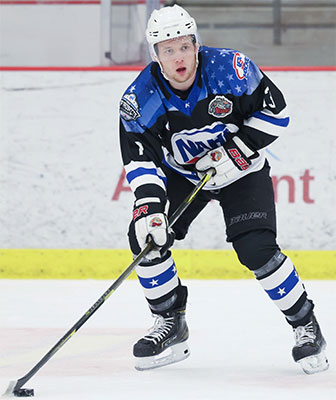 The Odessa Jackalopes, a proud member of the North American Hockey League, would like to congratulate Mike Manzo on his commitment to play NCAA Division III hockey for the University of Massachusetts-Boston (UMass Boston). Manzo is now the sixth Jackalopes player to commit from the 2021-22 season.
Manzo, 20, just finished his third and final season in the NAHL. His first year was in 2019-20 when he was drafted #113 overall by the Wilkes-Barre/Scranton Knights. Manzo played 21 games for the Knights recording two goals and one assist. The 5'9"/175lb. right-handed forward was then sent to the Springfield Jr. Blues where he would play only two games for them. The Troy, MI native was then acquired by Odessa. Manzo finished his rookie season by playing 11 games for the Jacks. In 2020-21, Manzo played 45 games and put up ten points (6G, 4A).
Manzo played in 50 games for the Jackalopes during the 2021-22 campaign. He put up a career-high in assists (19) and points (25) during his final year of junior eligibility. He finished ninth on the team in scoring. He was third on the team in short-handed goals with three. He ended his final year in the NAHL with a plus/minus of 17 which was the second-most on the Jacks roster.
Also, Manzo was selected for the first time in his NAHL career to play in the 2022 NAHL Top Prospects Tournament. He played two games while representing Team South and registered one goal. Manzo ended his junior hockey career with 129 games played, 14 goals, and 25 assists. He also sits 12th all-time for games played in Jackalopes franchise history (106).
UMass Boston is located in Boston, Massachusetts. The Beacons play in the New England Hockey Conference (NEHC). This past season they finished third in their conference. Peter Belisle has been their Head Coach since 2006-07. In 2015-16, Belisle was awarded the NCAA III (NEHC) Coach of the Year. Manzo will join former Odessa Jackalope, Davis Browning (2018-19).
"Getting this commitment is a big step in continuing my career and my life. Juniors was a great stepping stone to prepare me personally and with hockey for college. The experiences I made the last few years were like no other and I'm very grateful to be able to have been put through that." Manzo went on to add, "The maturity and knowledge I have gained have been crucial for the future. The people you meet are amazing as you navigate your life. There have been many highs and lows, but they are all very important for what is to come. I'd like to thank the organizations I have played for and I'm very excited to experience what there is to come," said Manzo.
"Mike is going to do great things at UMASS Boston. The speed in which he plays is going to help their offensive group. I look forward to seeing what he does with his career over there," said Jackalopes Head Coach Scott Deur.
Click here for an updated NAHL to NCAA commitment list