El Paso Rhinos name Joe Coombs as new head coach
May 31, 2022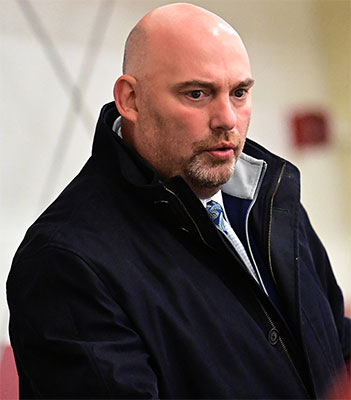 The El Paso Rhinos of the North American Hockey League (NAHL) have named Joe Coombs as their new head coach.
A Brantford, Ontario, Canada native, Coombs has an extensive and impressive hockey resume—both as a player and a coach. He started his junior career in the Mid-Western Junior Hockey League (MWJHL) and at the Frederick Gunn School, a prep school in Connecticut. Coombs went on to play major junior hockey in the Ontario Hockey League (OHL) in the 1990s before playing in the East Coast Hockey League (ECHL) with the Columbus Chill. He also played in the United Hockey League (UHL) and Central Hockey League (CHL) in the late 1990s and early 2000s. In his final season as a player, Coombs played for the Lubbock Cotton Kings, a familiar WPHL opponent of the El Paso Buzzards.
Since 2001, Coombs has coached in the NAHL, USHL, CHL and CSHL. Between 2005 and 2010, he was the head coach of the Dubuque Thunderbirds where he earned three Central States Hockey League (CSHL) championship titles. As the Assistant Coach of the Dubuque Fighting Saints, he led his team to a Clark Cup Championship in 2011. Two season later, Coombs won his second Clark Cup, this time as the Associate Head Coach of the Fighting Saints. Most recently, he was the General Manager and Head Coach of the Rebels, an NAHL organization that has called Aston, Philadelphia, and Jamestown home in the past seven seasons. During the Rebels' 2016-17 season, Coombs was named the NAHL (East) Coach of the Year, the NAHL (East) General Manager of the Year, and the NAHL Coach of the Year.
Coombs' successful coaching strategy has two main components: pressure and accountability. He explained, "I like to play high pressure, meaning taking away time and space. We want to play the game honestly. We are highly accountable, and we hold our players to the highest standard and expectations."
His familiarity with the Rhinos' franchise also helped him make the decision to accept the coaching position. "I've known Cory Herman for 20 years," he stated. "I started my coaching career when Cory started the Rhinos. I know what this organization means to Cory, and it is the exact same thing I have been looking for in my career—a place to call home. I'm ready to work with someone who is as passionate about the game of hockey as I am."
Because El Paso is a nontraditional hockey market, it provides a unique opportunity for coaches and players alike. "Coaching in El Paso gives me an opportunity to join an organization that has something wonderful going on, the chance to help it grow, and be part of something bigger than myself," Coombs said. "I want to see this organization be the best in the NAHL. We want to win championships, but we're going to do it the right way. We will help young men become better young men and be productive members of our community. I want to continue to build on what Cory and Corey have been building."
Rhino owner Cory Herman and General Manager Corey Heon believe Coombs will be a great fit for the Rhinos' organization. "I've known Joe for about two decades now. He's a very passionate and experienced coach who is committed to getting the best out of each player. He aligns well with our vision for Rhino Hockey and we're really excited to have him join our Rhino family in El Paso," Herman said. Heon added, "We're super excited to bring in Joe. He is a solid guy with tremendous knowledge and experience. He brings a coaching formula that fits our organization and a mindset that is second to none."
When asked what he would like Rhino Country to know about his plans for Rhino Hockey, Coombs said, "If they were excited before, just wait for puck drop in September."
Joe has been happily married to his wife Shannon for 20 years. Together, they have three children: eighteen-year-old Regan, high school senior Rylan, and Northwood Prep sophomore Ritter. The fifth member of the Coombs family is Arlo, their yellow lab.
The Rhinos welcome Joe Coombs and his family to the Sun City and are excited for the future of Rhino Hockey.