New Jersey Titans crowned Robertson Cup National Champions
May 24, 2022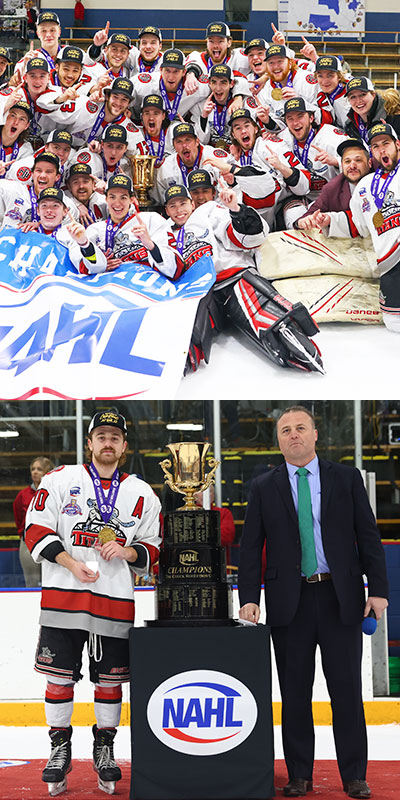 Robertson Cup National Championship Game: New Jersey 3 vs. Anchorage 0 - Led by a 31-save shutout from goaltender Andrew Takacs in the Championship game, the New Jersey Titans won their first ever NAHL Robertson Cup National Championship as they blanked the Anchorage Wolverines by a score of 3-0 on Tuesday night at Fogerty Arena in Blaine, Minnesota. Titans forward Tommy Bannister, who had five points in four games during the event, was named the Most Valuable Player.
With so much on the line, the 1st period opened with both teams careful not to make any mistakes. As the period went on, the offensive chances ramped up, but Anchorage goalie Raythan Robbins and New Jersey goalie Andrew Takacs were equal to the task. New Jersey outshot Anchorage in the 1st period, 14-7.
The Titans ramped up the offense in the 2nd period as the netted the game's first goal as a scramble in front led to an original save by Anchorage goalie Raythan Robbins. The rebound was collected by New Jersey and sent to the point, where Anthony Calafiore sent a pass to the side of the net to forward Brendan Dumas, who redirected a shot past Robbins to make it 1-0 for New Jersey. Less than three minutes later, the Titans made it 2-0 as Nick Ring created a turnover at the New Jersey blueline and chipped the puck ahead to Tommy Bannister. Bannister then got the puck back to Ring, who did the rest as he danced his way through traffic and beat a sprawled-out Robbins to make it 2-0 for the Titans.
The Titans killed off an early penalty in the 3rd period and any doubt about the outcome was erased when the Titans took a 3-0 lead as Anthony Calafiore scored his second goal of the event as he potted home a rebound after the initial shot by Brendan Dumas. The rest of the game was Takacs shutting the door on the Wolverines as he made a total of 31 saves in the Championship Game shutout. Wolverines goalie Raythan Robinns played very well in the loss, making 37 saves on 40 Titans shots.
The Robertson Cup is awarded to the national playoff champion of the North American Hockey League. The oldest junior hockey trophy in the United States, the Robertson Cup is named in honor of Chuck Robertson, a pioneer of junior hockey in the NAHL and youth hockey in the state of Michigan. Robertson was the owner of the Paddock Pools Saints when they won a record seven straight championships from 1976-83.
2022 NAHL Robertson Cup All-Tournament Team
Forward and MVP: Tommy Bannister, New Jersey Titans
Forward: Colton Friesen, Anchorage Wolverines
Forward: Brendan Dumas, New Jersey Titans
Defense: Campbell Cichosz, Anchorage Wolverines
Defense: David Posma, New Jersey Titans
Goaltender: Andrew Takacs, New Jersey Titans