New Jersey and Anchorage battle for Robertson Cup on Tuesday
May 24, 2022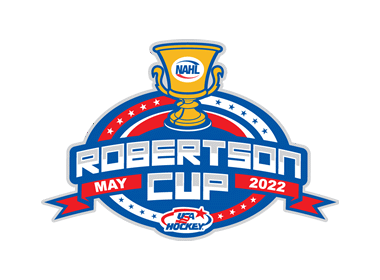 One game remains in the 2021-22 North American Hockey League season, and it is the biggest of them all… the 2022 Robertson Cup National Championship Game.
Face-off is scheduled for 7pm on Tuesday, May 24th at Fogerty Arena in Blaine, MN. The match-up will be a battle against the East Division Champion New Jersey Titans against the Midwest Division Champions Anchorage Wolverines
New Jersey advanced to the Championship by defeating the New Mexico Ice Wolves, 2 games to 1 in their best of three Semi-Final. After falling in Game 1, 3-1, the Titans won Game 2 in overtime, 3-2, and won Game 3 in double overtime, 4-3.
The Wolverines swept the St. Cloud Norsemen in their three game series thanks to a 2-1 overtime win in Game 1 and a 6-2 win in Game 2.
Neither team has ever won the Robertson Cup in their team's history. The Wolverines are trying to become just the fourth team in league history to win the title in their first season of existence.
Just 17 teams have won the Robertson Cup since it was first awarded in 1976 and 2022 will be the 46th time the league has awarded it to its National Champion.
TICKETS: Tickets for the 2022 NAHL Robertson Cup National Championship Game are sold at the Fogerty Arena Box Office beginning at 6:00pm.
Click here for live score updates
For more information on the event, please visit www.robertsoncup.com
The game will be broadcasted live and in HD on HockeyTV
2022 NAHL Robertson Cup Schedule and Results (all times central)
Friday, May 20: #4 Anchorage 2 vs. #1 St. Cloud 1 (OT) | #3 New Mexico 3 vs. #2 New Jersey 1
Saturday, May 21: #1 St. Cloud 2 vs. #4 Anchorage 6 | #2 New Jersey 3 vs. #3 New Mexico 2 (OT)
Sunday, May 22: #3 New Mexico 3 vs. #2 New Jersey 4 (2OT)
Tuesday, May 24: Robertson Cup National Championship Game, 7:00pm
Overtime Note: During the Robertson Cup Championship, if the score is tied after three periods of play the following shall take place: Teams shall return to their dressing room and the ice shall be resurfaced. A fifteen-minute intermission shall take place. A twenty-minute, sudden death, overtime period shall be played with 5 skaters a side. The game shall terminate upon a goal being scored and the Club scoring declared the winner. If no goal is scored, the same procedure as above shall be repeated until a winner has been determined.
The Robertson Cup is awarded to the national playoff champion of the NAHL. The oldest junior hockey trophy in the United States, the Robertson Cup is named in honor of Chuck Robertson, a pioneer of junior hockey in the NAHL and youth hockey in the state of Michigan. Robertson was the owner of the Paddock Pools Saints when they won a record seven straight championships from 1976-83.