Anchorage and New Mexico ride hot goalies to Day 1 wins
May 21, 2022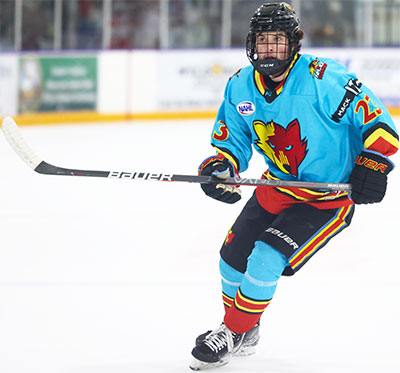 Robertson Cup Semi-Final #1: Anchorage 2 vs. St. Cloud 1 (OT) (Anchorage leads series, 1-0) – Wolverines goalie Raythan Robbins made 48 saves to lead his team to a 2-1 overtime win in Game 1 of their best of 3 Robertson Cup Semi-Final against the St. Cloud Norsemen. The Wolverines started the scoring midway through the 1st period as Colton Friesen netted his 5th goal of the playoffs as he fired a snapshot from the right circle that beat Norsemen goalie Tomas Bolo high to the glove side. The Norsemen responded just one minute later as Blake Perbix fired a shot from the high left circle that Robbins got a piece of, but the rebound tumbled over his head and trickled over the goal line to tie the game at 1-1. After the 2nd and 3rd periods went scoreless thanks in large part to Robbins holding the fort for the Wolverines, Anchorage killed off two penalties in overtime, which led to the game-winner. While on a 2-on-1, Hunter Schmitz slid a nice pass to Jackson Reineke, who buried a one-timer past Bolo for the game-winner and series lead. Bolo made 19 saves in the losing effort as St. Cloud outshot Anchorage 49-21 for the game.
Robertson Cup Semi-Final #2: New Mexico 3 vs. New Jersey 1 (New Mexico leads series, 1-0) – Thanks to 36 saves from goalie Beni Halasz, the New Mexico Ice Wolves took a 1-0 series lead in their best of 3 Semi-Final with a 3-1 win in Game 1 of their series against the New Jersey Titans. The Ice Wolves jumped ahead 1-0 thanks to a 1st period goal from Blayde Pogreba, his 1st goal of the playoffs. New Mexico went ahead 2-0 late in the 2nd period as Jake Keller pounced on a loose puck in the low slot and fired a shot over the shoulder of New Jersey goalie Andrew Takacs to double the lead. Late in the 3rd period, New Mexico's Alex Gomez added an empty-net goal to make it 3-0. With just :30 seconds left, the Titans snapped Halasz's shutout bid as Ryan Coughlin scored his 5th goal of the playoffs, which gave New Jersey their lone goal of the night in a 3-1 final. Takacs made 30 saves in the loss.
The 2022 North American Hockey League (NAHL) Robertson Cup National Championship, continues on Saturday, May 21st with Game 2 of the Semi-Finals at Fogerty Arena in Blaine, Minnesota. The event runs from May 20-24.
The #1 St. Cloud Norsemen are facing the #4 Anchorage Wolverines in a best of three series. The #2 New Jersey Titans are playing the #3 New Mexico Ice Wolves in a best of three series. The two series winners will advance to a one-game Championship Game to determine the Robertson Cup Champion.
For more information on the Robertson Cup Championship Tournament, including schedule, scout information, ticket information, hotels, rental cars and other event information, visit http://nahl.com/robertson-cup/
All 2022 NAHL Robertson Cup Playoff games can be viewed live and in HD on HockeyTV.
Click here for the live scoreboard
2022 NAHL Robertson Cup Remaining Schedule (all times central)
Saturday, May 21, Game 2: #1 St. Cloud vs. #4 Anchorage, 4:30pm | #2 New Jersey vs. #3 New Mexico, 7:30pm
Sunday, May 22, Game 3: #4 Anchorage vs. #1 St. Cloud, 3:00pm |#3 New Mexico vs. #2 New Jersey, 6:00pm*
Monday, May 23: Off Day
Tuesday, May 24: Robertson Cup National Championship Game, 7:00pm
*if necessary
Overtime Procedure: During the all Robertson Cup Championship games, if the score is tied after three periods of play the following overtime procedure shall take place. Teams shall return to their dressing room and the ice shall be resurfaced. A fifteen-minute intermission shall take place. A twenty-minute, sudden death, overtime period shall be played with five skaters a side. The game shall terminate upon a goal being scored and the Club scoring declared the winner. If no goal is scored, the same procedure as above shall be repeated until a winner has been determined.