NAHL announces 2022 Robertson Cup Championship schedule
May 16, 2022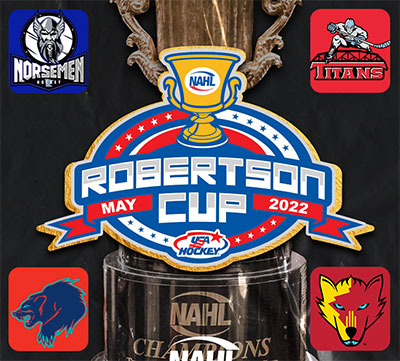 The North American Hockey League (NAHL) has announced the schedule and teams for the 2022 Robertson Cup National Championship, which will be played at Fogerty Ice Arena in Blaine, Minnesota, from May 20-24. The Robertson Cup is awarded to the national playoff champion of the NAHL.
The four divisional playoff champions who have qualified for the 2022 Robertson Cup Championship are: #1 St. Cloud Norsemen (Central Division), #2 New Jersey Titans (East Division), #3 New Mexico Ice Wolves (South Division), and the #4 Anchorage Wolverines (Midwest Division). Clubs were then seeded 1-4 for the event based upon their finish in the NAHL regular-season standings.
The #1 Seed will face the #4 seed in a best of three series. The #2 seed will face the #3 seed in a best of three series. The two series winners will advance to a one-game Championship Game to determine the Robertson Cup Champion.
For more information on the Robertson Cup Championship Tournament, including schedule, scout information, ticket information, hotels, rental cars and other event information, visit http://nahl.com/robertson-cup/
All 2022 NAHL Robertson Cup Playoff games can be viewed live and in HD on HockeyTV.
2022 NAHL Robertson Cup Schedule (all times central)
Thursday, May 19 - Team Practices: 11:00am, 12:10pm, 1:20pm, and 2:30pm
Friday, May 20, Game 1: #4 Anchorage vs. #1 St. Cloud, 4:30pm | #3 New Mexico vs. #2 New Jersey, 7:30pm
Saturday, May 21, Game 2: #1 St. Cloud vs. #4 Anchorage, 4:30pm | #2 New Jersey vs. #3 New Mexico, 7:30pm
Sunday, May 22, Game 3: #4 Anchorage vs. #1 St. Cloud, 3:00pm |#3 New Mexico vs. #2 New Jersey, 6:00pm*
Monday, May 23: Off Day
Tuesday, May 24: Robertson Cup National Championship Game, 7:00pm
*if necessary
Overtime Procedure: During the all Robertson Cup Championship games, if the score is tied after three periods of play the following overtime procedure shall take place. Teams shall return to their dressing room and the ice shall be resurfaced. A fifteen-minute intermission shall take place. A twenty-minute, sudden death, overtime period shall be played with five skaters a side. The game shall terminate upon a goal being scored and the Club scoring declared the winner. If no goal is scored, the same procedure as above shall be repeated until a winner has been determined.
The event will also be held in cooperation with 2022 18U Top Prospects Tournament and the NAHL Prospects Challenge.
The Roseville Visitors Association is a proud partner of the 2022 NAHL Robertson Cup Championship. "The Roseville Visitors Association is honored to partner with the North American Hockey League to host teams and spectators in our community. Hockey is a big tradition in Minnesota and we're delighted to be part of the Robertson Cup. We are so excited to have people enjoying the activities they love," said Shannon Thomasser, Director of Sales of the Roseville Visitors Association.