New Mexico stays alive with shutout of Brahmas in Game 3
May 13, 2022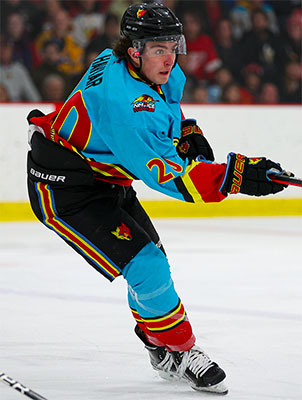 South Division Finals, Game 3: Lone Star 0 @ New Mexico 3 (Lone Star leads series, 2-1) – Thanks to a 29-save shutout from goalie Beni Halasz, the New Mexico Ice Wolves fought off elimination with their first win of the South Finals as they blanked the Brahmas, 3-0 on Thursday night.
The Ice Wolves wasted no time taking the lead in the game, as they scored the game's first goal less than a minute into the contest as Nicolas Haviar converted on a 2-on-1 on a nice pass from Sully Scholle.
That lead would remain almost the entire rest of the game until the final moments of the 3rd period as the Brahmas pulled goalie Arthur Smith in favor of an extra attacker. However, the Ice Wolves would find the back of the net two more times on the empty-net as Scholle netted his 5th of the playoffs and Jeff Hutchinson also scored
Smith would end up making 14 saves in the loss as the Brahmas outshot the Ice Wolves 29-15.
Game 4 is set for Friday night in Albuquerque.