Wolverines take 2-1 series lead with double-OT win on Sunday
May 9, 2022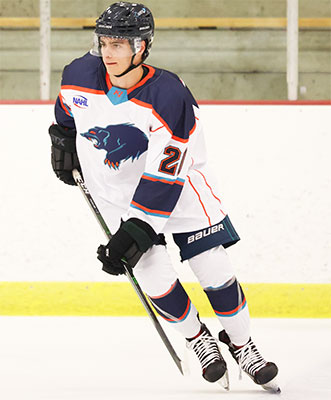 Midwest Division Finals, Game 3: MN Wilderness 3 @ Anchorage 4 (2OT) (Anchorage leads series, 2-1) – Thanks to two goals from Colton Friesen, including the game-winner in double overtime, the Anchorage Wolverines took a 2-1 series lead in the best of 5 Division Finals thanks to a 4-3 win over the Minnesota Wilderness on Sunday.
The teams were even at 1-1 after the 1st period as Cameron Morris scored early for the Wolverines with Jared Mangan answering for the Wilderness.
In the 2nd period, the Wilderness took a 2-1 lead early in the period as Cole Gordon scored his first goal of the playoffs. Later in the period, the Wolverines regained the lead with a pair of goals from Friesen and Hunter Bischoff.
Early in the 3rd period, the Wilderness tied the game as Mangan scored his second goal of the game.
Friesen scored the game-winning goal at the 12:54 mark of the second overtime to push the Wolverines to a 4-3 win and give the team a 2-1 advantage in the Midwest Division Finals best-of-5 playoff series. Friesen did it singlehandedly, taking away the puck away along the left boards and skating in towards the side of the net before flipping it off Minnesota goalie Konrad Kausch's head and in.
Raythan Robbins made 30 saves in the win, while Matthew Smith stopped 19 of 22 shots in the loss before being replaced by Kausch, who stopped 24 of 25 shots.
Game 4 is Friday in Cloquet, Minnesota.