Tomahawks come back to top Rebels in OT in Game 3, 5-4
April 29, 2022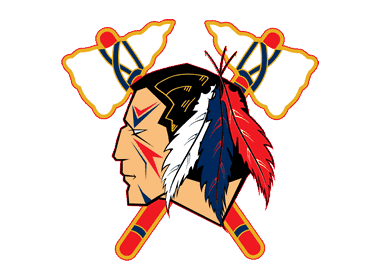 East Division Semi-Finals, Game 3: Johnstown 5 @ Jamestown 4 (OT) (Johnstown leads series, 2-1) – Jacob Badal had two goals and an assist and Braedon Ford scored with just :36 seconds remaining in overtime as the Johnstown Tomahawks beat the Jamestown Rebels, 5-4 in overtime in Game 3 of the East Division Semi-Finals. Johnstown now leads the series, 2-1.
Jamestown broke the ice with a goal from Ethan Janda as he scored his first of the playoffs 3:06 into the game Thursday night. Janda's goal was the only on the opening period.
The Rebels got on the board early again in the 2nd period as Jak Vaarwerk scored his second goal of the series on the power play, putting his team up 2-0. Johnstown responded just 18 seconds later with a goal from Cole Bianchin. Joshua Burke regained the two-goal lead for Jamestown though a minute later with another power play goal for the Rebels, but the Tomahawks responded yet again with a goal from Jacob Badal, scoring the game's fourth goal in 2:19 of playing time. Jake Black's power play goal tied the game for the Tomahawks at 3 9:05 into the period, followed 8 minutes later with a shorthanded goal from Ryan Waltman and a second of the game for Badal, sending the game to the 3rd period tied at 4 after a seven-goal 2nd period.
In the overtime, it took almost the whole extra period for someone to find the game-winner, but the Tomahawks completed the comeback as Braedon Ford scored his third goal of the season as he collected a rebound off the end boards and one-timed a blast into the back of the net.
Johnstown goalie Dominik Wasik made 38 saves in the win, while Rebels goalie Nolan Suggs made 37 saves in the loss.