Wolverines sweep their way to Midwest Finals
April 25, 2022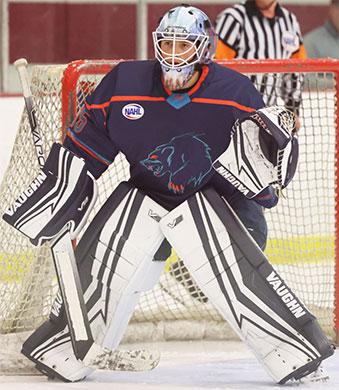 Midwest Division Semi-Finals, Game 3: Anchorage 4 @ Springfield 3 (OT) (Anchorage wins series, 3-0) – The Anchorage Wolverines became the first team to clinch a spot in the Division Finals as they capped off a series sweep on the road of the Springfield Jr. Blues thanks to a 4-3 overtime win in Game 3.
The Wolverines now advance to the Midwest Division Finals where they will face either the Fairbanks Ice Dogs or Minnesota Wilderness. Fairbanks leads that best of 5 series 2-0 with Game 3 in Cloquet, MN on Friday.
The Wolverines got off to a hot start, taking a 2-0 lead in the 1st period with goals from Aiden Westin and Jackson Reineke.
The Jr. Blues responded in kind in the 2nd period with a pair of power play goals from Connor Smith and Joey Dosan to tie the game at 2-2.
In the 3rd period, a goal from Hunter Schmitz, his second of the series, would again put the Wolverines back in front. However, the Jr. Blues were able to tie the game with just :19 seconds remaining in regulation as Leo Bacallao scored to even things at 3-3 and send the game to overtime.
In the overtime, a rush into the Jr. Blues zone saw the puck go right to Bohdan Panasenko in the high slot, who fed the puck over to Matt Johnson on the right wing as Johnson one-timed a blast past Jr. Blues goalie Ethan Roberts for the game and series winner.
Wolverines goalie Raythan Robbins made 59 saves in the win and stopped 127 of 132 shots in the series. Roberts also made 59 saves in the loss.