Generals punch playoff ticket with last day overtime thriller
April 17, 2022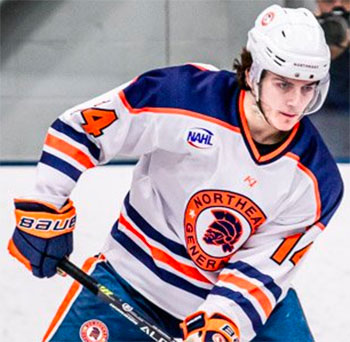 Maine 3 @ Northeast 4 (OT): The Northeast Generals ended the regular season on a four-game winning streak, which included a 4-3 overtime win on Sunday as they picked up two points to finish one point ahead of the Maryland Black Bears for the final playoff spot in the East Division.
Evan Orr, who had two goals and an assist in the game, got the scoring started early in the 1st period for the Generals. However, the Nordiques responded in big fashion, which included two goals later in the 1st period from Jonny Meiers and Jack Kurrle to take a 2-1 lead to the lockerroom.
Things looked even better for the Nordiques in the 2nd period as a goal from Evan Orloff made the score 3-1 in favor of the Nordiques midway through the game. However, the Generals stormed back later in the 2nd period with goals from Paul Minnehan and another goal from Orr.
After a scoreless 3rd period, the Generals won the game less than a minute into overtime as a turnover in the neutral zone led to a breakaway opportunity for Brent Keefer, who lifted the puck at the last second over an outstretched Avery Sturtz for the game-winner.
Cullen DeYoung made 22 saves in the win, while Sturtz made 47 saves in the loss.
With the win, the Generals advance to the East Division Semi-Finals to take on the New Jersey Titans, a team that they swept at home earlier in the weekend.