Generals stay alive in playoff hunt with 4-3 win on Sunday
April 10, 2022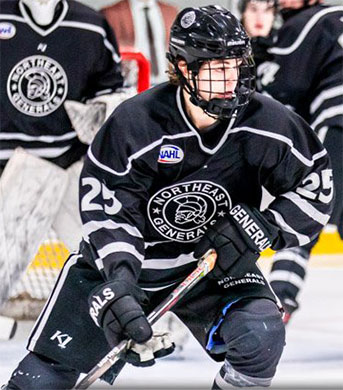 Maine 3 @ Northeast 4: The Generals stayed alive in the quest for the final playoff spot in the East Division, as they fended off a late rally by the Nordiques to pick up a 4-3 win on Sunday.
Things were looking good for the Generals early in the contest as they jumped out to a 3-0 lead thanks to 1st period goals from Ryan Gordon and Paul Minnehan, and then a goal early in the 2nd period from David Tolan.
Before the 2nd period was over, the Nordiques would get on the board courtesy of Zion Green to make the score, 3-1.
In the 3rd period, the Generals regained their three-goal lead as Brent Keefer scored just 2:06 into the final frame. Later the period, the Nordiques mounted a comeback with goals from Tristan Fasig and Aidan Connolly that made it 4-3. However, the Nordiques could not find the equalizer as the Gens locked things down for the remaining four minutes.
Generals goalie Cullen DeYoung made 43 saves in the win, while Avery Sturtz made 30 saves in the loss.
With the win, the Generals sit three points back of Maryland with three games to play for the final playoff spot in the East.