April 8, 2022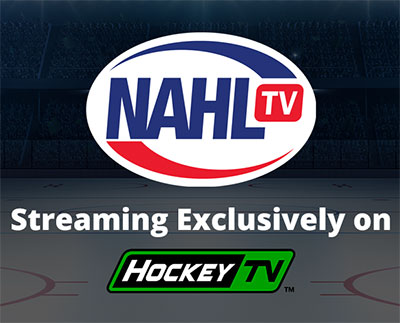 Just two weekends remain in the 2021-22 NAHL regular season as 28 games highlight the schedule from Friday-Sunday.
Entering this weekend, half of the spots in the 2022 Robertson Cup Playoffs still remain unclaimed and two division titles are still up for grabs.
NAHL Combines are in full swing and the Robertson Cup Playoffs begin on April 21st. As a reminder, the top four teams in each division qualify for the playoffs.
It was another huge week for NCAA commitments as nine more players committed to play NCAA hockey, bringing the current season total to 233 players.
In the Central this weekend, the Austin Bruins need just one win to clinch a playoff spot as they host the 2nd place Aberdeen Wings. Minot is in a similar situation where a win or two will get them into the playoffs as they host division-champion St. Cloud. The must-win games are in Mason City this weekend as Bismarck visits North Iowa. Both teams have 54 points and any loss will eliminate them from playoff contention.
Things in the East are similar to the Central. Johnstown is in Maine, needing just one win to clinch a playoff spot. The Jamestown Rebels, who have won their last seven in a row, are in a similar situation as they are in Danbury this weekend. Maryland still needs a few more wins to claim their playoff spot as they are in New Jersey trying to fend off Northeast. The Generals face almost a must-win situation on Sunday as they host Maine.
In the Midwest, the Springfield Jr. Blues stayed in the hunt for the regular season title and a playoff berth as they shutout Chippewa on Thursday, 4-0. The two teams finish the series on Friday. Up in Alaska, the Anchorage Wolverines are fighting hard for the final playoff spot with a one-point edge over Janesville and they are in Fairbanks to face the Ice Dogs, who are trying to win the division. The Jets, who are one point out of the final playoff spot, have a huge series at home against the Wilderness, who are just three points ahead. The final series has the Magicians in Kenai River.
In the South, the four playoff teams are known, but the division title is up for grabs this weekend in New Mexico as the 2nd place Ice Wolves host the 1st place Brahmas. Lone Star needs just a regulation win to claim the division crown. Wichita Falls looks to lock up 3rd place with a pair of games in El Paso. The Shreveport Mudbugs look to gain ground on 3rd place as they host Corpus Christi. The final series has Odessa in Amarillo.
Watch all the action on HockeyTV
Download the all new NAHL App today! (iOS - Google Play)
FRI, APRIL 8
Jamestown at Danbury - 7:00 PM EDT
Johnstown at Maine - 7:00 PM EDT
Maryland at New Jersey - 7:30 PM EDT
Aberdeen at Austin - 7:00 PM CDT
Springfield at Chippewa - 7:00 PM CDT
MN Wilderness at Janesville - 7:00 PM CDT
Odessa at Amarillo - 7:05 PM CDT
Corpus Christi at Shreveport - 7:11 PM CDT
Bismarck at North Iowa - 7:30 PM CDT
St. Cloud at Minot - 7:35 PM CDT
Wichita Falls at El Paso - 7:00 PM MDT
Lone Star at New Mexico - 7:30 PM MDT
Anchorage at Fairbanks - 7:30 PM AKDT
MN Magicians at Kenai River - 7:30 PM AKDT
SAT, APRIL 9
Jamestown at Danbury - 3:00 PM EDT
Johnstown at Maine - 7:00 PM EDT
Maryland at New Jersey - 7:00 PM EDT
Aberdeen at Austin - 7:00 PM CDT
MN Wilderness at Janesville - 7:00 PM CDT
Odessa at Amarillo - 7:05 PM CDT
Corpus Christi at Shreveport - 7:11 PM CDT
Lone Star at New Mexico - 6:30 PM MDT
Bismarck at North Iowa - 7:30 PM CDT
St. Cloud at Minot - 7:35 PM CDT
Wichita Falls at El Paso - 7:00 PM MDT
Anchorage at Fairbanks - 7:30 PM AKDT
MN Magicians at Kenai River - 7:30 PM AKDT
SUN, APRIL 10
Maine at Northeast - 2:30 PM EDT