Norsemen close gap on Central crown with OT win
March 30, 2022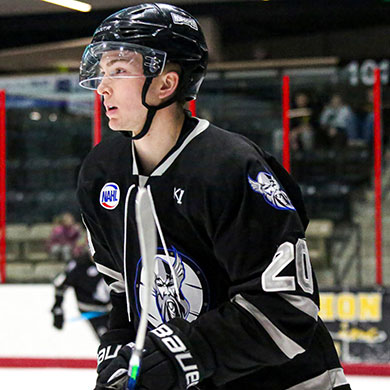 St. Cloud 4 @ North Iowa 3 (OT) - The St. Cloud Norsemen battled to a 4-3 overtime victory on the road at North Iowa on Wednesday night in Mason City, with the game-winning goal completing a hat trick for forward Blake Mesenburg.
St. Cloud claimed its 35th win of the season, the second-most wins in franchise history. The Norsemen have already locked up a spot in the North American Hockey League playoffs and will host at least a first round series.
The Norsemen scored three goals in the second period to take a 3-0 lead before North Iowa charged back with a pair of goals from Carter Rapalje and Jack Campion in the final three minutes of the period to make it a 3-2 game. The Bulls tied it up 3-3 early in the third on a goal from Jack Mesic and both teams grinded out the period to force overtime.
In a wild overtime frame, Norsemen netminder Tomas Bolo came up with a huge stop on a penalty shot attempt by Carter Rapalje, one of the previous Bulls goal-scorers.
St. Cloud drew a penalty in overtime as Ryan O'Neill was hooked, and the Norsemen snatched with win 4-3 with the power play hat trick goal for Mesenburg.
The Norsemen opened scoring in the second on Mesenburg's first of the game. Forward Nik Hong made it 2-0 St. Cloud with a power play strike, assisted by Duke Kiffin and the goaltender Bolo. Mesenburg netted his second of the game, also at even strength. Both his tallies were assisted by Blake Perbix and Ethan Benz (Shakopee, MN). Bolo finished the night with 27 saves in his 25th win of the season.