NAHL Alumni Update: NCAA DIII Awards
March 30, 2022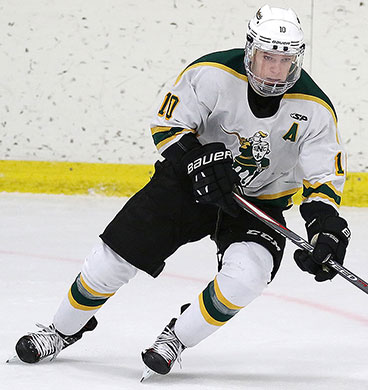 Peter Bates, a senior forward from St. Norbert College, and who played in the NAHL from 2014-17 for four different teams, is the recipient of the 2022 Sid Watson Award. The award, voted on by the nation's Division III head coaches, is presented to the best player at the men's NCAA Division III level by the American Hockey Coaches Association. Bates enjoyed a banner senior season for St. Norbert in 2021-22, registering 28 goals and 30 assists for 58 points in 31 games. Through the quarterfinals of the NCAA Division III Tournament, Bates leads all Division III players in goals per game at 0.97 and points per game at 1.97. His six game-winning goals is second nationally.
A native of Evanston, IL, Bates was selected as the Northern Collegiate Hockey Association (NCHA) Player of the Year for the second time. Bates' 28 goals and 58 points this season are the second-most in St. Norbert history, while his 30 assists are tied for third-most. Bates finished with 17 multi-point games this season, including each game in a seven-game stretch from Nov. 19 to Jan. 1 that saw him score 12 goals and 11 assists for 23 points.Bates played in 123 games during his decorated career, tied for the most ever at St. Norbert. His career totals of 65 goals, 92 assists and 157 points are all third in school annals. Bates' 15 career game-winning goals is a school record.
Bates began his NAHL career in 2014-15 with the Johnstown Tomahawks. Later that season, he was traded to the Michigan Warriors. In 44 games that season, he recorded 20 points as a rookie. Bates spent the 2015-16 campaign between the Lone Star Brahmas and Janesville Jets, racking up 21 points in 57 NAHL games that season. During the 2016-17 season, he had his best career year, recording 56 points in 58 games with the Jets. Overall in 159 career NAHL games, he recorded 97 points.
NCAA Division II-III men's head coaches have recognized the top 30 hockey players in their division by selecting them as CCM Hockey/AHCA All-Americans for 2021-22. The list includes 14 NAHL alumni.
It is a diverse group coming from 18 schools, 14 states and two Canadian provinces, as well as two players from outside North America.
1st Team East
Conor O'Brien, G, Endicott (Fairbanks/Lone Star, 2015-17)
Justin Allen, D, Utica (Northeast Generals, 2016-17)
Regen Cavanagh, F, Utica (Odessa/Janesville/Corpus Christi, 2014-18)
Dante Zapata, F, Utica (Austin Bruins, 2016-19)
1st Team West
Matt Eller, D, Adrian (Austin Bruins, 2017-18)
Peter Bates, F, St. Norbert (Janesville/Lone Star/Michigan/Johnstown, 2014-17)
Austin Martinsen, F, Augsburg (Minot Minotauros, 2014-17)
2nd Team East
Buster Larsson, F, Utica (New Jersey Titans, 2017-18)
Peter Morgan, F, SUNY-Geneseo (Kenai River/Amarillo/Aberdeen, 2018-21)
2nd Team West
Mason Palmer, D, Augsburg (Minnesota Magicians, 2015-16)
Jordan Fader, F, UW-Stevens Point (Shreveport/Aberdeen, 2016-18)
Peyton Frantti, F, St. Norbert (Odessa/Topeka, 2016-18)
Sam Ruffin, F, Adrian (Fairbanks Ice Dogs, 2016-18)
3rd Team East
Andy Beran, G, Colby (Minnesota Magicians, 2020-21)