Generals move back into playoff position with OT win
March 20, 2022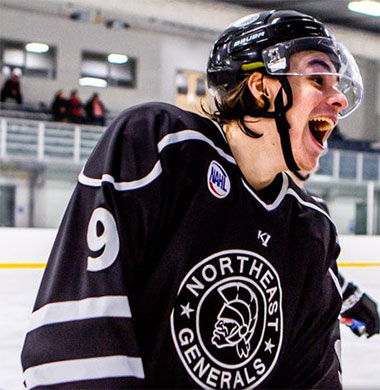 Northeast 7 @ Maine 6 (OT) – The Northeast Generals moved back into sole possession of 4th place in the East Division thanks to a 7-6 overtime win in Maine in the lone NAHL game on Sunday. Alex Krause had two goals, including the overtime-winner in the win.
Krause had the lone goal of the 1st period to give the Generals a 1-0 lead. The Nordiques then scored four goals in the 2nd period to take a 4-3 lead as Brendan Gibbons scored twice and Reese Farrell and Caden Pattison also scored. The Generals had two goals in the period from Matt Boczar and Jared Scott.
The Nordiques took a 5-3 lead early in the 3rd period with a goal from Ignat Belov. The Generals then tied the game at 5-5 with back-to-back goals from David Andreychuk and Paul Minnehan. The Nordiques briefly regained the lead with a goal from Evan Orloff to make it 6-5. Late in regulation, the Generals tied the game as Ryan Corcoran netted his 11th goal of the season.
Just :28 seconds into overtime, Krause netted his second of the contest for the win.
Generals goalie Cullen DeYoung made 18 saves in the win, while Ewan McDevitt made 30 saves in the loss.