NAHL announces Combat Hockey 3 Stars of the Week
October 17, 2011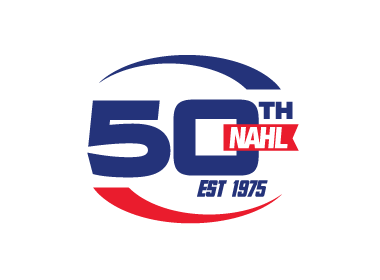 The North American Hockey League (NAHL) today announced the Three Stars of the Week presented by Combat Hockey for the week ending October 16, 2011. The Three Stars of the Week is a weekly feature during the 2011-12 regular season that honors the top performing players each week of the regular season as nominated by their respective teams.
1st Star: JT Osborn, forward, Fairbanks Ice Dogs
Osborn, 20, continued to add to one of the strongest starts to a season by a player in recent NAHL history with another memorable week, garnering 1st star honors. On Wednesday, Osborn lit the lamp for two goals, including the game-winning goal, and assisted on the other two as Fairbanks edged out the Fresno Monsters, 4-3. The next night, the Alpine, California, native scored early in the 3rd period for the eventual game-winning goal in a 3-1 Ice Dogs win over the Monsters. For the weekend, Osborn had three goals, including both game-winners, two assists and was +2. His 24 points are tops in the NAHL. "I think JT has been an incredible leader for us and that has translated to his play on the ice," said Ice Dogs head coach Trevor Stewart. "He is really firing on all cylinders right now and more importantly, his goals and assists are coming at key times in the game."
2nd Star: Joe Ballmer, goaltender, Jamestown Ironmen
Ballmer, 19, was solid between the pipes as the Jamestown Ironmen swept the Chicago Hitmen over the weekend. In total, Ballmer allowed just one goal in two games, stopping 51 of 52 combined shots. On Friday, Ballmer made 28 saves in a 7-1 win as his shutout bid was spoiled late in the 3rd period. On Saturday, the Kalamazoo, Michigan, native came into the game in a relief appearance after Chicago had gone up 3-1. Ballmer stopped all 23 shots the rest of the way, helping Jamestown to come-from-behind for the 4-3 win. Ballmer has played more minutes and faced more shots that any NAHL goalie so far this season, and his save percentage is right around 92% for the season. "Our team goes as far as Joe is going to take us, he is that important," said Jamestown head coach Dan Daikawa. "He has been the guy to keep us consistent and really played a big role in both our wins this past weekend."
3rd Star: Brooks Behling, forward, Amarillo Bulls
Behling, 20, scored half of his season point total this past weekend as the forward from Pittsburgh, Pennsylvania, racked up three goals and two assists in two Amarillo wins. On Friday, Behling had two goals, including the game-winner and an assist in a 5-3 win over Toepka. On Saturday, Behling assisted on the first two Bulls goals as the beat the Wichita Falls Wildcats, 3-2. For the season, Behling has 10 points (5g, 5a) in 11 games played. "As a veteran player, Brooks has shown a lot of leadership this season, so it was good to see him step up and play really well this past weekend," said Bulls head coach Dennis Williams. "He was a big reason why we won."
Other players nominated were (alphabetical order): Brian Christie, forward, Topeka RoadRunners – Anthony Coles, forward, Jamestown Ironmen – Nick D'Avolio, forward, Alexandria Blizzard – Bodhi Engum, goaltender, Alaska Avalanche – Andrew Graves, forward, Kalamazoo Jr. K-Wings – Connor Hellebuyck, goaltender, Odessa Jackalopes – Taylor Herndon, forward, Texas Tornado – Gage Hough, forward, Topeka RoadRunners – Dennis Kravchenko, forward, Wichita Falls Wildcats - Nick Lehr, goaltender, Austin Bruins – Logan Lemirande, forward, Port Huron Fighting Falcons – Robert Nichols, goaltender, Wenatchee Wild – Kevin Novakovich, forward, Alaska Avalanche – Robbie Payne, forward, Kalamazoo Jr. K-Wings – Easton Powers, forward, Port Huron Fighting Falcons – Jack Prince, forward, Texas Tornado – Eric Purcell, forward, Corpus Christi IceRays – Brach Tiller, goaltender, Michigan Warriors – Derek Tylka, forward, Minot Minotauros – Chris Waterstreet, forward, Traverse City North Stars – Matthew Weis, forward, Corpus Christi IceRays.