March 11, 2022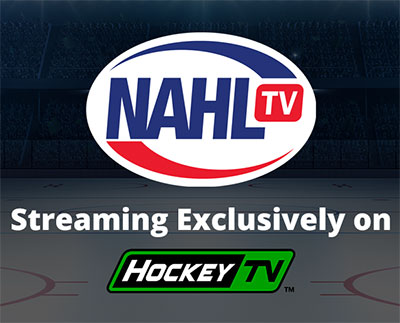 Just over month remains in the 2021-22 NAHL regular season as most teams have just a dozen games remaining.
The race for the Robertson Cup Playoffs is officially in high gear and teams can start clinching their spots as early as this weekend.
The NAHL saw four more NCAA commitments this past week, bringing the current season total to 203 NCAA commitments for the 2021-22 season.
This weekend in the Central Division, the red-hot Bismarck Bobcats put their seven-game winning streak on the line as they continue their climb towards a playoff spot in Aberdeen against the Wings. The Minot Minotauros, who are tied with Aberdeen for 2nd place, are in St. Cloud to take on the 1st place Norsemen. In the final series, it is crunch time for North Iowa and Austin, who battle in a home-and-home series with the final playoff spot in the division at stake.
In the East Division, the race for the final playoff spot continues this weekend as the 4th place Northeast Generals put their four-game winning streak on the line as they host Danbury. Two points back of the Generals for the final playoff spot reside the Jamestown Rebels, who will be in Maryland for a series against the Black Bears. The final series has the 1st place New Jersey Titans looking to clinch a playoff spot as they are in Maine to face the Nordiques.
In the Midwest, action began early on Thursday as the Wilderness took home a big 3-1 win in Anchorage on Thursday to pull within one point of the final playoff spot in the Midwest. The two teams play again on Friday and Saturday. The Springfield Jr. Blues take to the road to try and slow down the hottest team in the NAHL, the Janesville Jets, who have won 10 straight games and sit in 3rd place in the division. The Chippewa Steel look to snap a six-game slide as they face the Magicians in a home-and-home series. The final series has Alaskan rivals facing off as the 1st place Fairbanks Ice Dogs travel to Kenai River for two games.
In the South Division, there is a big series in Shreveport as the Mudbugs look to hold onto the final playoff spot as they host the 2nd place Lone Star Brahmas. Another big series goes down in Odessa as the Jackalopes host the Amarillo Wranglers with both teams looking to secure a couple of wins to try and get in playoff position. The final series as the El Paso Rhinos looking to snap their 15-game slide in Wichita Falls against the Warriors.
Watch all the action on HockeyTV
Download the all new NAHL App today! (iOS - Google Play)
FRI, MARCH 11
Jamestown at Maryland - 6:30 PM EST
New Jersey at Maine - 7:00 PM EST
MN Magicians at Chippewa - 7:00 PM CST
Springfield at Janesville - 7:00 PM CST
Minot at St. Cloud - 7:00 PM CST
El Paso at Wichita Falls - 7:05 PM CST
Lone Star at Shreveport - 7:11 PM CST
Bismarck at Aberdeen - 7:15 PM CST
Amarillo at Odessa - 7:15 PM CST
Austin at North Iowa - 7:30 PM CST
MN Wilderness at Anchorage - 7:00 PM AKST
Fairbanks at Kenai River - 7:30 PM AKST
SAT, MARCH 12
New Jersey at Maine - 7:00 PM EST
Jamestown at Maryland - 7:00 PM EST
Danbury at Northeast - 7:00 PM EST
North Iowa at Austin - 7:00 PM CST
Springfield at Janesville - 7:00 PM CST
Chippewa at MN Magicians - 7:00 PM CST
Minot at St. Cloud - 7:00 PM CST
El Paso at Wichita Falls - 7:05 PM CST
Lone Star at Shreveport - 7:11 PM CST
Bismarck at Aberdeen - 7:15 PM CST
Amarillo at Odessa - 7:15 PM CST
MN Wilderness at Anchorage - 7:00 PM AKST
Fairbanks at Kenai River - 7:30 PM AKST
SUN, MARCH 13
Maine at Northeast - 4:00 PM EDT