March 9, 2022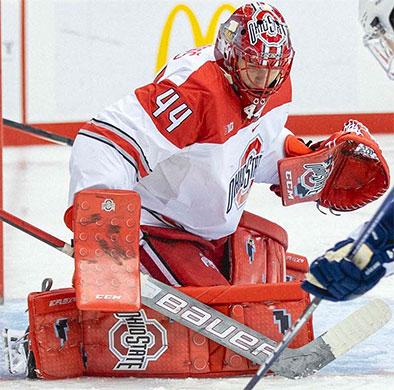 Ohio State freshman goalie Jakub Dobeš (Topeka Pilots) is a finalist for three awards – Big Ten Player of the Year, Big Ten Goaltender of the Year and Big Ten Freshman of the Year. Dobeš, from Ostrava, Czech Republic, and a Montreal Canadians draft pick, has played in 35 games this season, starting 34, and is 21-11-2, with a 2.26 goals-against average and .934 save percentage. A Mike Richter Award semifinalist, his save percentage ranks fourth nationally and first in the Big Ten and he is fifth in the NCAA in goalie wins with the fifth-most for a Buckeye in a single season. His 1,086 saves lead the NCAA and are second all-time for a Buckeye, and he shares the Big Ten lead with three shutouts on the year. He was a four-time Big Ten Star of the Week, the national rookie of the month in October and the co-national goaltender of the month in January.
NCHC 1st Team: Ryan Fanti, G, Minnesota-Duluth (Minnesota Wilderness) - In goal for the All-NCHC First Team, Fanti (Thunder Bay, Ont.) posted a 9-9-4 record in conference play, making 23 starts, while leading the conference with a 2.13 goals-against average and ranking second with a .918 save percentage. The two-time NCHC Goalie of the Week and National Goaltender of the Month for November recorded three shutouts in conference play, all in a row, and has four shutouts overall this season. Fanti is a Mike Richter Award semifinalist and leads the NCHC with both a .921 save percentage and a 1.97 GAA in all games (31 starts).
NCHC 2nd Team: Kevin Fitzgerald, F, St. Cloud State (Aberdeen/Topeka) - Fitzgerald (Hinsdale, Ill.), tied for second in conference scoring with 25 points (12g/13a) in 24 games. His 12 goals were fourth in league play, while his 16 goals overall rank fifth in the conference.
NCHC 2nd Team: Zach Driscoll, G, North Dakota (Austin Bruins) - Driscoll went 15-4-1 in conference play and led the NCHC with a .919 save percentage, while ranking third with a 2.17 GAA. Overall, Driscoll had two shutouts, including one in conference play, while going 20-9-1 in 30 games with a 2.43 GAA and a .905 save percentage. He was a four-time Goaltender of the Week during the season, including winning three straight in February.
ECAC 3rd Team: Max Andreev, F, Cornell (New Jersey Titans) - Despite missing a chunk of the season due to injury, Andreev (Sr. - Moscow, Russia) has been one of the most productive skaters in the league while on the ice. In 12 ECAC Hockey contests, he averaged well over a point per-game, scoring seven goals and dishing out 10 assists for a 17 point season. He also boasted a +12 on-ice rating, and excelled in the face-off circle, going 177-140.
ECAC 3rd Team: Brandon Estes, D, Union (Lone Star Brahmas) - Estes (Sr. - Richardson, Texas) put together the best season of his career, leading all ECAC Hockey blue-liners in scoring during league play with 18 points (3-15). He was also the overall scoring leader for the Dutchmen with 29 points, as well as the team leader with 43 blocks in 35 games. His strong play led Union to a seventh place finish in the final regular-season standings.
Hockey East All-Rookie Team: David Breazeale, Maine (Shreveport Mudbugs) – Breazeale tallied 16 points (2-14-16) with a +4 rating during his first season in the Script. He finished second on the team in assists and fourth in points. The Grandville, Michigan native's 16 points were the most from a defenseman on the Black Bears, while they were good enough for third in the league among all freshmen and 11th from a defenseman.
CCHA Defenseman of the Week: Will Zmolek, Bemidji State (Minnesota Wilderness) - Bemidji State junior defenseman Will Zmolek tied for the team lead among defensemen with two points off of two assists in the CCHA Mason Cup Playoffs quarterfinals this past weekend. Zmolek earned both assists in Saturday's 4-2 victory over the Falcons including assisting on the game-winning goal. He led all skaters by going +6 on the ice over the weekend and blocked a team-high six shots.
The Idaho Steelheads have signed St. Thomas Tommies goaltender Peter Thome (Aberdeen Wings) to a Standard Player Contract (SPC) for the remainder of the 2021-22 season. Thome, 24, completed his collegiate career with the University of St. Thomas during the 2021-22 season, posting a 3-24-1 record with a 4.53 goals-against average and an .876 save percentage through 29 games as a member of the first NCAA Division I team in the university's history. The Minneapolis, Minn. product played parts of four seasons with the University of North Dakota from 2017-18 through the start of the 2020-21 campaign, finishing with a 19-14-4 record with a 2.24 goals-against average and a .904 save percentage with three shutouts. He was on the roster for two NCHC Regular Season Championships prior to his transfer. Prior to his collegiate career, the 6-foot-4 goaltender played in the NAHL for the Aberdeen Wings during the 2015-16 season. He was selected 155th overall (6th Round) by the Columbus Blue Jackets in the 2016 NHL Draft.
NCHC Goalie of the Week: Brandon Bussi, Western Michigan (Amarillo/New Jersey) - Bussi backstopped the Broncos to a weekend and season sweep of rival Miami, allowing only three goals all weekend, including only one even strength. Bussi made 27 saves in Friday's 5-3 win over the RedHawks, including 13 stops in the third period to close out the win. On Saturday, he stopped all 32 shots he faced to earn his fourth shutout of the season, tying for the second-most in a single season in program history. Bussi compiled 18 of his 32 saves in the third period Saturday to earn First Star of the Game. Bussi finished the weekend with a pair of wins, 59 total saves on 62 shots for a .952 save percentage, while compiling a 1.50 goals-against average. On the season, Bussi improved to 22-10-1 with a .912 save percentage and a 2.59 GAA.
SPHL Player of the Week: Mitchell McPherson, F, Peoria Rivermen (Amarillo/Texas) - The Southern Professional Hockey League (SPHL) today announced that Mitchell McPherson of the Peoria Rivermen has been named the SPHL Player of the Week for February 28-March 6. McPherson scored five goals, added an assist and was +4 in leading Peoria to a three-game sweep of Roanoke. The Peoria, IL native scored once in a 6-3 win over the Dawgs on Thursday and twice more in Friday's 4-0 blanking of Roanoke. McPherson closed out the weekend with a pair of goals, scoring both shorthanded and on the power play, while adding an assist in Sunday's 8-2 win over Roanoke.