Sunday Wrap-Up: Jets make it 10 in a row and move into 3rd
March 6, 2022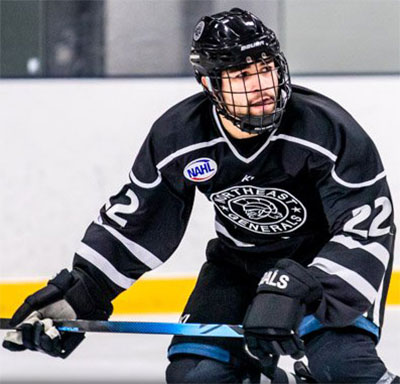 Janesville 4 @ St. Cloud 3 (OT) – The Jets extended their winning streak to 10 straight games and moved into sole possession of 3rd place in the Midwest thanks to a come-from-behind win over the Norsemen on Sunday. After a scoreless 1st period, the Norsemen took control in the 2nd period with three goals in a seven-minute span as Gramm McCormack, Brandon Lajoie, and Ryan O'Neill scored to make it 3-0. The Jets then scored the next three goals as Jimmy Doyle scored in the 2nd period to make it 3-1 and Cy LeClerc and Mack Keryluk added 3rd period goals to tie the game at 3-3. In the overtime, Will Troutwine scored his 6th goal of the season to complete the comeback and win. Jets goalie Owen Millward made 39 saves in the win, while Tomas Bolo made 18 saves in the loss.
Johnstown 2 @ Northeast 3 (OT) – The Northeast Generals completed a weekend sweep of the Tomahawks thanks to a 3-2 overtime win on Sunday. Ryan Gordon broke the ice first for the Generals on a delayed penalty call just 51 seconds into the 2nd period, giving the Generals a 1-0 lead. Braedon Ford got the Tomahawks on the board with a deflection off the shot from Frank Jenkins, tying the game at 1 with 14:14 to go in the 2nd. Holt Oliphant gave the Tomahawks the lead with 8:21 to in the period with his 14th goal of the season, coming on the power play. The Generals tie it back up in the late stages of the 2nd period with Joe Schubert scoring his eighth goal of the season, sending the game to the 3rd tied at 2. 60 minutes wasn't enough Sunday afternoon with the 3rd period going scoreless as well, the game headed to overtime tied at 2. Jared Scott and Northeast come away with the win in overtime with a 3-2 final. Cullen DeYoung made 39 saves in the win, while Matthew O'Donnell made 36 saves in the loss.
New Mexico 2 @ Shreveport 1 – The Ice Wolves widened their lead atop the South Division as goalie Carsen Stokes made 19 saves in a 2-1 win. After a scoreless 1st period, the Ice Wolves were first on the board in the 2nd period as JD Metz scored his 9th goal of the season. Shreveport tied the game at 1-1 later in the period as Logan Valkama scored his 7th goal of the season. Early in the 3rd period, the Ice Wolves netted the game-winner as Nicolas Haviar scored his 11th goal of the season. Mudbugs goalie Simon Bucheler made 29 saves in the loss.