March 4, 2022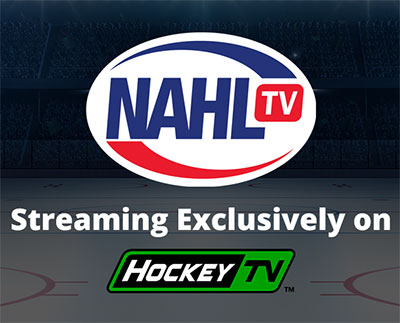 The first full weekend of March is here and the NAHL has a busy schedule of 28 games on the slate for Friday-Sunday.
March typically sees the first playoff spots being clinched, but all four divisional playoff races are very close and all indications are they will be going down to the wire.
The NAHL saw another NCAA Division I commitment this past week, bringing the current season total to 199 NCAA commitments for the 2021-22 season.
In the Central Division, thanks to five-game winning streak, the Bismarck Bobcats have entered the playoff conversation as they look to gain ground on the final spot by hosting the North Iowa Bulls. The 1st place St. Cloud Norsemen will face a tough challenge as they host the 2nd place Aberdeen Wings with the two clubs separated by just five points for the top spot. The Norsemen then host Janesville on Sunday. The final series is a battle for the final playoff spot as Austin is in Minot for pair of games with the two teams tied in the standings.
In the East, the 1st place New Jersey Titans look to close in on a playoff spot as they host the Jamestown Rebels in what would be a first-round playoff series if the playoffs started today. In other action, Danbury looks to snap a 9-game slide as they are in Maryland, and Johnstown takes to the road to face the Northeast Generals.
In the Midwest, the 1st place Fairbanks Ice Dogs are back in action as they travel South to take on the Anchorage Wolverines. Each team is 2-0-1 in their last three games. The red-hot Janesville Jets put their seven-game winning streak on the line with a home-and-home series against Chippewa and a road game in St. Cloud on Sunday. Fresh off a 3-2 win at the Magicians on Thursday, the Minnesota Wilderness take to the road to face the Springfield Jr. Blues in a two-game series.
In the South, it's a big series in North Richland Hills as the Lone Star Brahmas make their bid for the division lead as they host the 1st place New Mexico Ice Wolves who enjoy a three-point lead over the Brahmas. New Mexico then travels to Shreveport on Sunday. The Mudbugs look to continue their playoff push as they host 4th place Odessa on Friday and Saturday with the two teams separated by just four points. Wichita Falls holds onto the 3rd spot in the division and will travel to Corpus Christi who are seven points out of a playoff spot with just 12 games to play. The final series has Amarillo in El Paso with the Rhinos looking to snap a 13-game losing streak.
Watch all the action on HockeyTV
Download the all new NAHL App today! (iOS - Google Play)
FRI, MARCH 4
Danbury at Maryland - 6:30 PM EST
Jamestown at New Jersey - 7:30 PM EST
Chippewa at Janesville - 7:00 PM CST
Aberdeen at St. Cloud - 7:00 PM CST
Wichita Falls at Corpus Christi - 7:05 PM CST
MN Wilderness at Springfield - 7:05 PM CST
Odessa at Shreveport - 7:11 PM CST
North Iowa at Bismarck - 7:15 PM CST
New Mexico at Lone Star - 7:30 PM CST
Austin at Minot - 7:35 PM CST
Amarillo at El Paso - 7:00 PM MST
Fairbanks at Anchorage - 7:00 PM AKST
SAT, MARCH 5
Danbury at Maryland - 7:00 PM EST
Jamestown at New Jersey - 7:00 PM EST
Johnstown at Northeast - 7:00 PM EST
MN Wilderness at Springfield - 6:05 PM CST
Janesville at Chippewa - 7:00 PM CST
Aberdeen at St. Cloud - 7:00 PM CST
Wichita Falls at Corpus Christi - 7:05 PM CST
Odessa at Shreveport - 7:11 PM CST
North Iowa at Bismarck - 7:15 PM CST
New Mexico at Lone Star - 7:30 PM CST
Austin at Minot - 7:35 PM CST
Amarillo at El Paso - 7:00 PM MST
Fairbanks at Anchorage - 7:00 PM AKST
SUN, MARCH 6
Johnstown at Northeast - 4:00 PM EST
Janesville at St. Cloud - 3:00 PM CST
New Mexico at Shreveport - 4:00 PM CST