March 2, 2022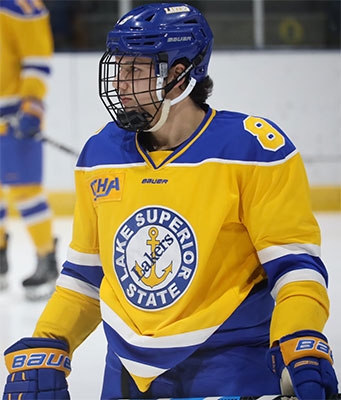 Atlantic Hockey Goalie of the Month and Week: Kyle McClellan, Mercyhurst (Austin Bruins) - Mercyhurst's Kyle McClellan has been one of the hottest goaltenders in the country as he led the Lakers to 18 points and the No. 7 seed in the Atlantic Hockey Postseason over the final month of the regular season. The Lakers were 6-0 in February when the Manchester, Mo., native allowed three or fewer goals and 5-0 when he allowed two or fewer. He finished the month with a 1.89 GAA and a .950 save percentage as he stopped 284-of-299 shots and three shutouts. This is his first Atlantic Hockey monthly honor this season and he is the fifth different AHA netminder to win Goaltender of the Month accolades this season. This past week, McClellan backstopped the Lakers to a home-and-home sweep of Canisius to clinch first-round home ice in the Atlantic Hockey Postseason. The Manchester, Mo., native made 55 saves in the two-game set, including 33 saves on Friday for his third shutout of the season. McClellan has been a force for the Lakers as they won six of their last eight regular season games. He has posted 12 games of 35 saves or more, including eight of 40+. This is his fourth Atlantic Hockey weekly award of the season, all of which have come in the last five weeks.
Atlantic Hockey Defensive Player of the Month: Brandon Koch, D, Air Force (Coulee Region Chill) - Air Force junior Brandon Koch picked up six points on a goal and five assists during February as the Falcons rallied to earn a berth in the Atlantic Hockey Quarterfinals over the season's final month. The Hastings, Minn., native posted a pair of multi-point games with two assists at Canisius on Feb. 4 and a goal and an assist against Holy Cross on Feb. 12. He ended the month with the primary assist on the Falcons' overtime game-winning goal to beat RIT, 1-0, in the regular season finale. This is his first Atlantic Hockey monthly honor of the season.
Atlantic Hockey Rookie of the Month: Clayton Cosentino, F, Air Force (Aberdeen Wings) - Air Force's Clayton Cosentino had a big month for the Falcons with six points on three goals and three assists during the month. The San Carlos, Calif., native opened the month in the midst of a six-game point streak that began in January and found himself on the score sheet in the month's first four games and six of eight contests overall in February. He scored goals in back-to-back games against Bentley and RIT on Feb. 19 and 25 and continued to be a force in the faceoff circle, winning 76 draws during the month. He leads Atlantic Hockey in defensive zone faceoff percentage, winning 62.3 percent of those draws. This is his second Atlantic Hockey monthly honor of the season.
CCHA Goalie of the Month and Week: Dryden McKay, Minnesota State (Corpus Christi/Springfield) - Minnesota State senior goaltender Dryden McKay recorded a perfect 6-0-0 record and one shutout through six games in February. He posted a 0.83 GAA and a .965 SAV%, making 138 saves on 143 shots. This past week, he backstopped No. 1 Minnesota State to a two-game conference road sweep at No. 14 Michigan Tech last weekend. He made 21 saves in a 2-1 overtime win Friday and registered 25 saves in Saturday's 2-1 win. McKay posted a 0.99 GAA and a .958 save percentage, making 46 saves on the weekend.
CCHA Rookie of the Month: Charlie Glockner, Northern Michigan (Amarillo Bulls) - Northern Michigan Freshman goaltender Charlie Glockner boasted four wins this month. He recorded a 2.28 GAA and a .923 SAV%. Glockner made 191 saves throughout the month. 44 of them coming from the Feb. 1 game against Michigan Tech, which was a career-high.
NCHC Goalie of the Month: Zach Driscoll, North Dakota (Austin Bruins) – Driscoll continued his second-half turnaround, posting a 7-1-0 record in February, while playing every minute in net for the Fighting Hawks last month. His only loss came in overtime. He led the NCHC with both a .941 save percentage and a 1.74 goals-against average in February, allowing only six even-strength goals over the month and only 14 goals total in eight games. Driscoll ended the month on a six-game winning streak, with five of his seven wins in the month coming against top-20 opponents. Driscoll opened February with 25 saves in a 4-1 win over then-No. 18 Omaha, before suffering his lone loss of the month in overtime the following night. He compiled 48 saves in a sweep of Colorado College on Feb. 11-12, including recording his second shutout of the season with 23 saves in a 4-0 win on Feb. 12. Driscoll stepped up his game even more on Feb. 18-19, backstopping UND to a sweep at then-No. 7 Minnesota Duluth, making a season-high 36 saves in a 4-3 win in the opener, before turning aside 33 more shots in a 3-2 win a night later. Driscoll earned NCHC Goaltender of the Week each of the first three weekends in February, becoming only the third NCHC netminder ever to win three straight such honors. He then wrapped up his month with 34 saves on Feb. 25 and 21 more stops on Feb. 26, giving up only three goals total in a sweep of then-No. 6 Western Michigan. Driscoll compiled 224 saves in February, third-most in the NCHC during the month, topping 30 saves three times. His 28.00 saves per game during the month were second in the NCHC, while he allowed more than two goals in a game only twice. On the season, Driscoll improved his save percentage to .907 and lowered his GAA to 2.37, which is tied for third in the NCHC. He now sits 19-9-1 on the season.
CCHA Forward of the Week: Logan Jenuwine, Lake Superior State (Amarillo/Aberdeen) - Lake Superior State junior forward Logan Jenuwine recorded four goals on the weekend to lead the Lakers to a weekend sweep over the Bowling Green Falcons. Jenuwine was tied for the team-lead in points in the series and netted his first career hat trick in Friday's 5-1 win over the Falcons. The winger scored an unassisted goal in the second period, which held up as the game winner, to give the Lakers a 2-1 lead. With under a minute left on the clock in the second period, Jenuwine added his second goal of the game to give the Lakers a 3-1 lead over BG. Jenuwine completed the natural hat trick at 9:51 of the third period with his seventh goal of the season. The Romeo, Mich. native recorded his fourth goal of the series in Saturday's 3-1 win as he gave the Lakers a 1-0 lead at 10:01 of the first period, leading the team to the victory that clinched home ice in the Mason Cup Quarterfinals. After the four-point effort against the Falcons, Jenuwine has totaled 18 points (8G, 10A) in 24 games this season.
CCHA Rookie of the Week: Bradley Marek, Ferris State (Springfield Jr. Blues) - Ferris State freshman forward & local Big Rapids native Bradley Marek recorded two goals, including a game-winning goal, five shots and six blocked shots on the weekend. Marek ran his goal-scoring streak to three games and tied for the CCHA lead in freshmen point-scoring on the weekend. The centerman won 54.8 percent of his faceoff draws, continuing to lead all CCHA freshmen in faceoff percentage and faceoff victories. Marek notched a power play goal each night, running his season total to 7, one short of the overall the league lead.
ECAC Goalie of the Week: Ian Shane, Cornell (Bismarck Bobcats) - Shane (Fr. - Manhattan Beach, Calif.) posted back-to-back shutouts this weekend against ECAC Hockey opponents, helping the Big Red claim the No. 4 seed and final bye in the league playoffs. His best outing came against No. 4 Quinnipiac on Friday when he stopped all 42 shots that came his way, backstopping Cornell to a 1-0 victory. He followed it up with a 23-save shutout in a 4-0 win over Princeton on Saturday.
NCHC Goalie of the Week: Ludvig Persson, Miami (Lone Star Brahmas) - Persson had his best weekend of the season, backstopping Miami to a split with then-No. 8 Minnesota Duluth. He made more than 40 saves both nights against the Bulldogs and allowed only three goals all weekend, including his first shutout of the season on Saturday. On Friday, Persson made 49 saves, his second-highest total of the season (and second-most in the NCHC this year), while giving up only two even-strength goals in a 3-1 defeat. The next night the Swede was even more impressive, turning aside all 44 shots he faced for his and Miami's first shutout of the season and third of his career. He also made four saves short-handed to kill off all five UMD power plays Saturday. Persson earned First Star of the Game Saturday and Second Star on Friday. Persson finished the weekend with 93 saves on 96 shots faced for a .969 save percentage, while posting a 1.54 goals-against average. He also helped Miami's penalty kill go 9-for-10 in the series with the Bulldogs. Persson has now made 49 or more saves three times in his career against UMD, including 50 earlier this season. On the season, he improved to 6-19-2 in net with an .893 save percentage and a 3.91 GAA.