Generals outlast Nordiques in shootout on Monday
March 1, 2022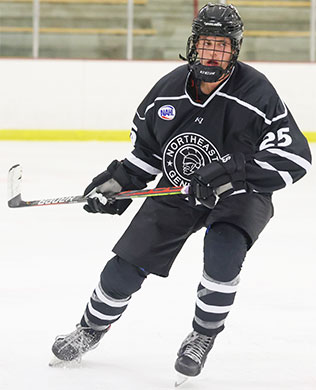 Maine 6 @ Northeast 7 (SO) – Ryan Gordon had a goal, two assists, and a shootout goal to lead the Generals to a come-from-behind 7-6 shootout win over the Nordiques on Monday.
Maine led 3-2 after the 1st period, getting two goals from Jacob Pellerin and another from Ignat Belov, while the Generals got goals from Paul Minnehan and Evan Orr.
In the 2nd period, the Generals turned the tables and scored three goals, while the Nordiques added two as the game sat at a 5-5 tie after 40 minutes. The Generals got goals from Gordon, Ryan Corcoran, and David Andreychuk, while Jack Kurrle and Nicholas Bernardo scored for the Nordiques.
In the 3rd period, Pellerin recorded his hat-trick for the Nordiques to give them a 6-5 lead midway through the period. However, with just: 16 seconds remaining in regulation, the Generals tied the game on a power play goal from Alex Krause.
After a scoreless overtime, the Generals took home the win thanks to shootout goals from Andreychuk and Gordon.
Cullen DeYoung made 30 saves in the win, while Gus Holt made 34 saves in the loss.