February 25, 2022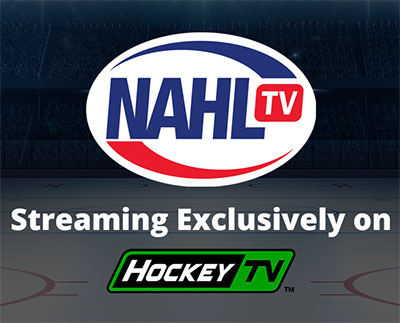 The month of February comes to a close this weekend as 24 games are on the schedule for NAHL teams.
There is less than two months remaining in the 2021-22 regular season and the race for playoff spots and regular season division titles is heating up.
This past week was an incredible one for NCAA commitments as the league saw 10 more players commit, bringing the 2021-22 season total to 198 total commitments. That included four players who recently played in the 2022 NAHL Top Prospects Tournament.
This weekend in the Central, all eyes will be on the division leaders, the St. Cloud Norsemen, as they put their 12-game winning streak on the line with a big out-of-division series against the Minnesota Wilderness, who have won seven straight games. The 2nd place Austin Bruins will be in Bismarck this weekend looking to snap a five-game losing streak as the Bobcats enter the series having won three straight games. The final series has the 3rd place Aberdeen Wings hosting the 4th place Minot Minotauros with the two teams separated by one point in the standings. The North Iowa Bulls look to snap a four-game slide as they step outside the division to travel to Springfield to take on the Jr. Blues.
In the East, the Johnstown Tomahawks moved into 2nd place with a 4-1 win over Maryland on Thursday night and they look to keep their place in the standings with two more home games against the Black Bears. The 1st place New Jersey Titans enjoy a five-point lead thanks to a five-game winning streak, which they put on the line this weekend as they visit the Maine Nordiques, who are unbeaten in regulation in their last six contests. The final series has Danbury looking to snap a seven-game skid as they visit Jamestown.
In the Midwest, with the Wilderness and Springfield engaging out-of-division opponents, the red-hot Janesville Jets put their five-game winning streak on the line as they host state-rival Chippewa for a pair of games. The other divisional series features the Minnesota Magicians in Alaska to take on the Kenai River Brown Bears.
In the South, the division-leading New Mexico Ice Wolves put their six-game winning streak on the line as they are in Amarillo for a pair of games. The 2nd place Lone Star Brahmas look to keep their hot play going as they visit El Paso where the Rhinos are looking to snap an 11-game losing streak. The final series has Shreveport in Corpus Christi with both teams out of a playoff spot and desperately needing points.
Watch all the action on HockeyTV
Download the all new NAHL App today! (iOS - Google Play)
FRI, FEBRUARY 25
New Jersey at Maine - 7:00 PM EST
Danbury at Jamestown - 7:05 PM EST
Maryland at Johnstown - 7:30 PM EST
Chippewa at Janesville - 7:00 PM CST
MN Wilderness at St. Cloud - 7:00 PM CST
New Mexico at Amarillo - 7:05 PM CST
Shreveport at Corpus Christi - 7:05 PM CST
North Iowa at Springfield - 7:05 PM CST
Minot at Aberdeen - 7:15 PM CST
Austin at Bismarck - 7:15 PM CST
Lone Star at El Paso - 7:00 PM MST
MN Magicians at Kenai River - 7:30 PM AKST
SAT, FEBRUARY 26
Maryland at Johnstown - 7:00 PM EST
New Jersey at Maine - 7:00 PM EST
Danbury at Jamestown - 7:05 PM EST
North Iowa at Springfield - 6:05 PM CST
Chippewa at Janesville - 7:00 PM CST
New Mexico at Amarillo - 7:05 PM CST
Shreveport at Corpus Christi - 7:05 PM CST
Minot at Aberdeen - 7:15 PM CST
Austin at Bismarck - 7:15 PM CST
St. Cloud at MN Wilderness - 7:15 PM CST
Lone Star at El Paso - 7:00 PM MST
MN Magicians at Kenai River - 7:30 PM AKST