February 23, 2022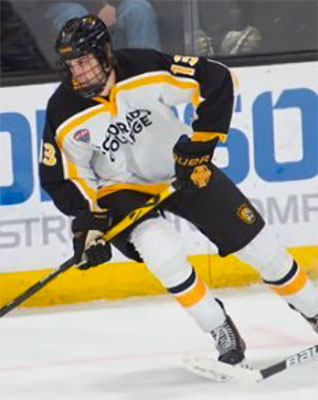 Atlantic Hockey Player of the Week: Colin Bilek, F, Army West Point (Northeast Generals) - Army West Point's Colin Bilek led Army to a sweep of Holy Cross with back-to-back multi-point games. The Brighton, Mich., native assisted on Army's first goal and scored the eventual game-winner to lift Army to a 2-1 win in game one. In the series finale on Friday, Bilek stepped up to score two goals, including one on the power play, to once again lead Army to the win. The senior captain was on the ice for four of the team's five goals in the series, blocked three shots and led the team with 10 shots on goal against the Crusaders. This is his third Atlantic Hockey weekly award this season.
Atlantic Hockey Defensive Player of the Week: Mitchell Digby, D, Air Force (Lone Star Brahmas) - Air Force's Mitchell Digby registered three points on a goal and two assists to help lead Air Force to a four-point weekend at Bentley. The Ottawa Lake, Mich., native assisted on Air Force's first goal in the series opener on Friday as the Falcons never trailed in the contest. In Saturday's 4-4 tie, Digby tied his career high with two points, assisting on Air Force's second goal in the second period before netting the third marker of the contest a few minutes later. This is his second Atlantic Hockey weekly honor of the season and his first Defensive Player of the Week nod. He was also named AHA Rookie of the Week on Jan. 17.
CCHA Goaltender of the Week: Dryden McKay, Minnesota State (Corpus Christi/Springfield) - Minnesota State goaltender Dryden McKay backstopped the Mavericks to a pair of 5-1 home league wins over Bemidji State. Had 25 saves on 26 shots in Saturday's CCHA regular-season championship-clinching win. He recorded a 1.00 goals against average (GAA) and a .958 save percentage (SAV%) on the weekend. McKay stands 29-4-0 for the season with a 1.26 goals against average and .934 save percentage. Leads the nation in wins and ranks second in goals against average and third in save percentage.
CCHA Rookie of the Week: Zach Faremouth, F, Ferris State (New Jersey/Shreveport) - Ferris State forward Zach Faremouth's strong weekend performance against nationally No. 14 ranked Michigan Tech helped the Bulldogs earn points both nights. On the weekend, the centerman won 52.7 percent of his faceoffs, scored twice Saturday including a shorthanded goal in the final minutes of regulation that earned Ferris State a point on the night, and was a plus-3 rating. Faremouth led all CCHA freshman in goal scoring, blocked three shots and scored on 50 percent of his shots on goal. He centered the Bulldog unit that produced three of Ferris State's five goals on Saturday and was a strong penalty killer, and helped hold the Huskies whose power play came in at 29.5 percent, 0 for their first 8 attempts.
ECAC Goalie of the Week: Mitchell Gibson, Harvard (Lone Star Brahmas) - Gibson (Jr. - Phoenixville, Penn.) was just what the Crimson needed in net this weekend, picking up a pair of wins over Princeton and Quinnipiac to help Harvard clinch a first-round bye in the ECAC Hockey playoffs. He had one of the best outings of his career on Saturday, sending aside 39 shots against No. 4 Quinnipiac to lead Harvard to a hard-fought 1-0 victory. He finished the weekend with 67 saves, boasting a 1.50 GAA and .957 save percentage.
NCHC Goalie of the Week: Zach Driscoll, North Dakota (Austin Bruins) - Driscoll continued to have the hot hand, gloving his third straight Goaltender of the Week award after backstopping North Dakota to a sweep at then-No. 7 Minnesota Duluth. Driscoll made a season-high 36 saves in Friday's 4-3 win, with 26 of the stops coming in the first 40 minutes. A night later, he made 33 more saves, including 18 in the third period, as UND held on to a 3-2 victory. Of his 33 saves, 10 came with UND short-handed, including eight stops on two UMD power plays in the third period. Driscoll earned Second Star of the Game both nights after logging back-to-back 30-save performances for the first time this season. Driscoll finished the series 2-0-0 with a .932 save percentage and a 2.50 goals-against average. He compiled 69 saves in the sweep, making 10 saves short-handed to help UND finish 4-for-5 on the penalty kill. Driscoll is now 5-1-0 with a .939 save percentage and a 1.82 GAA in February, improving to 17-9-1 with a .903 save percentage and a 2.44 GAA overall on the season.
NCHC Rookie of the Week: Brett Chorske, F, Colorado College (St. Cloud Norsemen) - Chorske chipped in three points to help Colorado College knock off Miami twice in overtime last weekend. In Friday's 4-3 extra-session win, he scored to tie the game at 2-2 in the third period and earned Second Star of the Game. The next night, Chorske dished out assists on each of CC's two goals in regulation, with his second helper tying the game in the third period and forcing overtime in an eventual 3-2 victory. It was only his second career multi-point game with the two points tying a career high. Chorske ended the series with a goal, two assists, three shots on goal and a +3 plus/minus. He also blocked a shot in Friday's win. On the season, Chorske now has four goals and five assists for nine points in 18 games.