Aberdeen forward Schimizzi makes NCAA DI commitment
February 16, 2022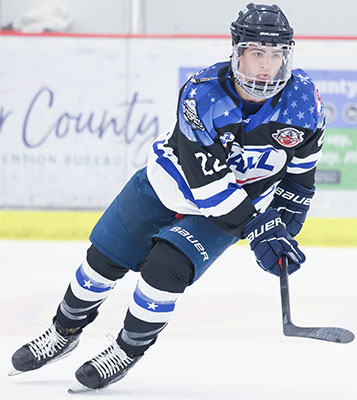 The Aberdeen Wings of the North American Hockey League (NAHL) are pleased to announce that Top Prospects forward Dominic Schimizzi has announced his commitment to play NCAA Division I hockey for Robert Morris University in Atlantic Hockey
Schimizzi, 20, is a very recent addition to the Wings' roster. The 5'11/175 lbs. native of McMurray, PA, has played in two games since joining the Wings last week.
Previously, Schimizzi 38 games for the Amarillo Wranglers in the 2021-22 season, scoring nine goals and adding 11 assists for 20 points.
He was selected to a played in the 2022 NAHL Top Prospects Tournament representing the Wranglers on the South Division team.
During the 2020-21 season, he played in 35 games with the Johnstown Tomahawks, where he had three goals and five assists. Before joining the NAHL, he played two seasons at the Gilmour Academy, where he scored 38 goals and 38 assists in 82 games played.
"I'm excited to be a part of the resurrection of the program I've always watched as a child," Schimizzi said. "I wanted to be a part of it, even when I was a kid. I'm excited to get the chance to play Division I hockey, especially close to home. This opportunity gives me a chance to keep pursuing this dream."
"I'm really happy for him and the work he's put in," Wings head coach Steve Jennings said. "He's the kind of player we love to have here in Aberdeen. He works hard, brings his 'A' game to games and practice equally. He works hard to make those around him better, which is why he'll succeed in college."
Click here for an updated NAHL to NCAA commitment list