16 NAHL alumni taking part in Olympics
February 11, 2022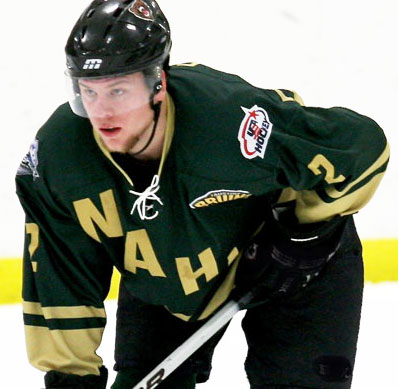 The Men's Ice Hockey competition is officially underway at the 2022 Winter Olympics in Beijing, China, and there is plenty of NAHL alumni competing in this year's event.
This is the second straight Olympics where NHL players are not taking part, so as a result players who are playing outside of the NHL were eligible to be selected and participate.
A total of 16 NAHL alumni are spread amongst seven teams in the event.
The 2022 Olympic men's ice hockey tournament will feature 12 countries placed in three groups consisting of four teams: Group A, Group B and Group C. Each team will face the other three teams in its pairing during group play.
The top teams in each group automatically qualify for the quarterfinals, as does the next best-ranked team that did not win its group. The remaining four quarterfinal spots will be determined in the qualification round, where the other eight teams battle to advance.
All ice hockey games at the 2022 Beijing Olympics will be held at two venues : the National Indoor Stadium and the Wukesong Sports Centre (also known as the Cadillac Arena).
China
Wei "Peter" Zhong, Forward (Aston and Philadelphia Rebels, 2016-18)
Denmark
Nick Jensen, Defense (Bismarck Bobcats, 2008-10)
Latvia
Oskars Batna, Forward (Bismarck Bobcats, 2014-16)
Ralfs Freibergs, Defense (Texas Tornado, 2009-11)
Janis Jaks, Defense (MN Wilderness/Rio Grande Valley, 2014-16)
Patriks Ozols, Defense (Lone Star Brahmas, 2019-20)
Slovakia
Adrian Holesinsky, Forward (Janesville Jets, 2015-17)
Matej Tomek, Goalie (Topeka Roadrunners, 2014-15)
Sweden
Christian Folin, Defense (Austin Bruins, 2010-12)
Linus Johansson, Forward (Topeka Roadrunners, 2011-12)
Switzerland
Sandro Aeschlimann, Goalie (Springfield Jr. Blues, 2013-14)
United States
Nick Abruzzese, Forward (New Jersey Titans, 2016-17)
Pat Nagle, Goalie (St. Louis Bandits, 2006-07)
Nick Shore, Forward (USNTDP, 2008-09)
Nathan Smith, Forward (Aberdeen Wings, 2016-17)
David Warsofsky, Defense (USNTDP, 2007-08)