NAHL alum Maroon signs extension with Tampa Bay
February 10, 2022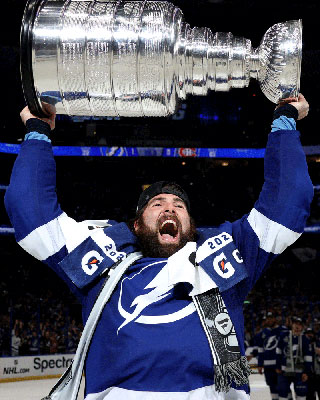 The Tampa Bay Lightning have re-signed forward and NAHL alumni Pat Maroon to a two-year contract extension worth an AAV of $1 million, vice president and general manager Julien BriseBois announced.
Maroon, 33, has skated in 45 games with the Lightning this season, recording seven goals and 13 points along with three power-play goals. He joined the Lightning as a free agent prior to the 2019-20 season and played a combined 119 games with the Lightning over the previous two seasons, but most importantly, has helped the Bolts to back-to-back Stanley Cup Championships in 2020 and 2021.
"(The contract extension) actually came fast," Maroon said. "I called my agent and said, 'Hey, I want to stay in Tampa.' Obviously, we know the situation we're in right now with cap space. I knew it was going to be tight, but (general manager) Julien (BriseBois) and (head coach Jon Cooper) found a way to bring me back a few more years. I'm really looking forward to it. Me and my family love it here in Tampa. The organization has been nothing but good to us. To be a part of such a great organization itself, the opportunities that they give you every single year to win, the players they provide you to play with and the leadership here, it's nothing but remarkable. (Tampa Bay owner) Jeff Vinik and Julien have done a really good job of providing that and it's a place where you want to win every single day. Coop does a really good job of providing that winning mentality. There's nowhere else I'd rather be than here."
The St. Louis, Missouri native also won the Cup in 2019 with his hometown Blues, making him the first player since the New York Islanders dynasty of 1980-83 to win three consecutive Cups. Since the 2019 playoffs, no other player has appeared in more Stanley Cup Playoff games than Maroon's 74. He has recorded six goals and 17 points in those games.
Maroon has appeared in 613 career NHL games over 11 seasons with the Lightning, Blues, New Jersey Devils, Edmonton Oilers and Anaheim Ducks, recording 108 goals and 260 points with 711 penalty minutes. He tallied a career-best 27 goals while with Edmonton during the 2016-17 season.
Maroon was originally drafted by the Philadelphia Flyers in the sixth round, 161st overall, at the 2007 NHL Draft.
Maroon played for Tampa Bay Head Coach Jon Cooper in the NAHL during the 2005-06 and 2006-07 seasons. During his first NAHL season in Texarkana, Maroon recorded 60 points in 57 games and was named to the NAHL's All-Rookie Team. The Bandits moved to St. Louis the following year, when they won the first of back-to-back Robertson Cup National Championship titles. Their first of those titles came in 2007 when the Bandits defeated the Mahoning Valley Phantoms 8-4 on May 6, 2007 in Fairbanks, Alaska. Maroon, who was the league's MVP that season with 95 points in 57 games played, recorded an astounding 23 points in just 12 playoff games on the way to the title, which included a hat-trick and an assist in the Championship game. Maroon's 23 points still stands as the NAHL record for most points in a single post-season.