Midwest, South, and NTDP win on Day 1 of Top Prospects
February 7, 2022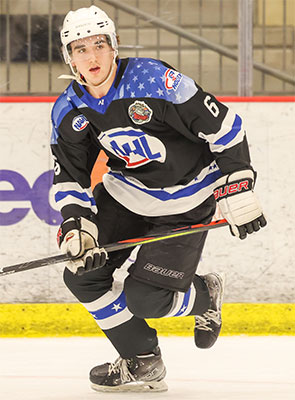 The 2022 NAHL Top Prospects Tournament got off to a great start on Monday as over 150 NHL, NCAA, and other scouts showed up for the annual event, which is taking place at the UPMC Lemieux Sports Complex on February 7-8 in Pittsburgh, PA.
The final day of the event is Tuesday as players have one last day to make an impression.
For more information on the 2022 NAHL Top Prospects Tournament, please visit: http://nahl.com/tpt/
UPDATED 2022 NAHL Top Prospects Tournament Schedule (all times eastern)
Monday, February 7th
NTDP 5 vs. Selects 2
Central 0 vs. Midwest 3
East 2 vs. South 6
Tuesday, February 8th
9:00am: Selects vs. Midwest
11:30am: South vs. Central
2:00pm: East vs. NTDP
NTDP 5 vs. NAHL Selects 2 – NTDP forward Will Vote scored two goals to lead his team to a close-fought 5-2 win over the recently put together NAHL Selects team. After a scoreless 1st period, the NTDP took a 2-0 lead in the 2nd period with goals from Vote and Oliver Moore. The Selects made it 2-1 late in the period with a nice individual effort and goal from Graham Harris (El Paso). In the 3rd period, the NTDP made it 3-1 on a goal from Charlie Cerrato. The Selects fought back once again to make it a one-goal game as Michael Mesic (North Iowa) scored to make it 3-2. Late in the contest, the NTDP added empty-net goals from Vote and Gracyn Sawchyn to make it a 5-2 final. NTDP goalie Michael Chambre made 26 saves in the win, while Arthur Smith (Lone Star) stopped 15 of 16 and Tomas Bolo (St. Cloud) stopped 15 of 17 in the loss.
Midwest 3 vs. Central 0 – Ethan Roberts (Springfield) and Croix Kochendorfer (Chippewa) combined for a 30-save shutout as the Midwest team shutout the Central team, 3-0 on Day 1 at NAHL Top Prospects. After a scoreless 1st period, the Midwest notched a pair of goals late in the 2nd period to take a 2-0 lead as teammates Jake Hale (Fairbanks) and Jack Ring (Fairbanks) set one another up on back-to-back goals. In the 3rd period, a barrage of offense led to Midwest taking a 3-0 lead just :46 seconds into the period as Cameron Morris (Anchorage) put home a rebound. Roberts made 16 saves in the win, while Kochendorfer made 14 saves. Max Gutjahr (Amarillo) played the entire game for the Central and made 34 saves in the loss.
South 6 vs. East 2 – South defenseman Connor Couet (Odessa) had a goal and two assists and goalie Beni Halasz (New Mexico) stopped all 21 shots he saw as the South beat the East, 6-2. It was all South in the first two periods as Couet opening the scoring in the 1st period, which was followed by three goals in 2nd period from Billy Feczko (New Jersey), Logan Cleary (Amarillo), and Dayne Hoyord (Odessa). Team East mounted a comeback in the 3rd period as Laker Aldridge (Maryland) and Brad McNeil (Maryland) scored to make it 4-2. Michael Spinner (Amarillo) would then add an empty-net goal and Jude Kurtas (Corpus Christi) would also score to complete the 6-2 win. Alomg with Halasz, William Proctor (Odessa) also played in the win, stopping 14 of 16 shots. Jon Howe (Jamestown) stopped 17 of 19 and Luca Di Pasquo stopped 13 of 16 in the loss.