NAHL announces monthly player awards for January
February 3, 2022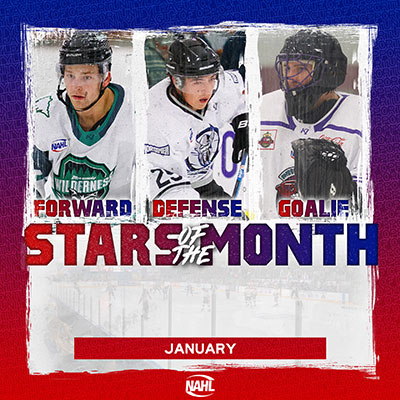 The North American Hockey League (NAHL) has announced its monthly player awards for the month of January. The Forward of the Month is Max Neill from the Minnesota Wilderness. The Defenseman of the Month is Evan Murr from the St. Cloud Norsemen. The Goaltender of the Month is Devon Bobak from the Shreveport Mudbugs. Only players who are nominated by their respective teams are considered for the NAHL monthly awards.
Bauer Hockey NAHL Forward of the Month: Max Neill, Minnesota Wilderness
A big reason behind the resurgence of the Minnesota Wilderness in January was 21-year-old forward Max Neill. The 6'1/185 lbs. native of Portage La Prairie, MB, played in eight games during the month of January and recorded 14 points, including 9 goals and 5 assists to go along with a +11 rating. Neill had two game-winning goals during the month and four multi-point games. He recorded at least a point in seven of the eight games played in January. So far during the 2021-22 season, Neill is 5th in team scoring with 32 points in 40 games played. "Max is the ultimate team player. He has played left and right wing and center for us. It's great to see him have the success he has had as of late. Not only has he put up big numbers but has elevated himself to one of our best leaders on and off the ice. Wherever Max decides to play college hockey that program will be getting the ultimate package in terms of what he brings to a team," said Wilderness head coach Dave Boitz.
"Personally, I found a groove playing with some really talented players and found a lot of chemistry and I also switched to playing center. Our team has really come together this past month, with every line chipping in and staying to our structure. We have really keyed in on our defensive play and that has led to offensive success," said Neill. "My goal is to make an NCAA D1 commitment by the end of the season and for our team to grow closer and win a Robertson Cup. I want to play hockey as long as I can and start coaching as soon as I'm done."
Runner-Up: Blake Mesenburg, F, St. Cloud Norsemen
Honorable Mention (alphabetical): Jonah Aegerter, Janesville Jets – Tanyon Bajzer, Odessa Jackalopes – Dillan Bentley, New Mexico Ice Wolves – Cole Dubicki, Kenai River Brown Bears - Kyle Gaffney, Aberdeen Wings – Ryan Gordon, Northeast Generals – Jazz Krivtsov, Danbury Jr. Hat Tricks – Trevor Kukkonen, Minnesota Magicians – William Lawson-Body, Wichita Falls Warriors - Michael Mesic, North Iowa Bulls – Nicholas Niemo, Lone Star Brahmas – Branden Piku, Maryland Black Bears – Jack Ring, Fairbanks Ice Dogs – Egan Schmitt, Johnstown Tomahawks – Theo Thrun, Maine Nordiques – Ben Troumbly, Bismarck Bobcats – Walter Zacher, Austin Bruins - Trey Zagrzebski, Corpus Christi IceRays
Bauer Hockey NAHL Defenseman of the Month: Evan Murr, St. Cloud Norsemen
St. Cloud defenseman Evan Murr, 18, raised his game to a whole new level in January. The 5'11/175 lbs. native of Stillwater, MN, put up over half the points he has recorded this season during his torrid month of January. Murr put up 14 points in just 10 games played, which included five goals, nine assists, and a +7 rating for the Norsemen, who now find themselves in 2nd place in the Central Division. Murr recorded at least a point in eight of the 10 games during the month and had four multi-point games. "Evan has been playing really well and given us some offensive punch from the back end, which also really helps our powerplay," said Norsemen head coach Corey Millen.
"We are playing our best hockey as a team right now, and I think we can find this kind of team success throughout the rest of the year," said Murr. "I'm just hoping to continue to improve each and every day, and just taking full advantage of the opportunity this group of guys is providing for each other."
Runner-Up: Cal Mell, Janesville Jets
Honorable Mention (alphabetical): Gustav Blom, New Mexico Ice Wolves – Joshua Burke, Danbury Jr. Hat Tricks – Jacob Conrad, Fairbanks Ice Dogs – Vincent Corcoran, Wichita Falls Warriors – Matthew Davies, Maryland Black Bears – Daniil Dolzhenko, Minnesota Magicians – Brendan Hill, Kenai River Brown Bears – Jackson McCarthy, Northeast Generals - Ray Murakami, Lone Star Brahmas – Michael Neumeier, Bismarck Bobcats – Max Ruoho, Minnesota Wilderness – Trevor Taulien, Odessa Jackalopes – Sean Vlasich, North Iowa Bulls
NAHL Goaltender of the Month: Devon Bobak, Shreveport Mudbugs
Shreveport Mudbugs goalie Devon Bobak, 20, is making the most of his final season of junior hockey. The 6'4/194 lbs. native of Northwood, OH, took his game to another level in January as he posted a 5-1-1 record in seven games during the month. Bobak faced 167 shots and made 159 saves in the seven games, allowing just eight goals, which was good for a 1.11 goals against average and .952 save percentage in January. He also posted two shutouts during the month and currently leads the NAHL with five shutouts this season. He ranks 2nd in the NAHL with a 1.98 goals against average. His save percentage of .922 ranks 4th. "Devon has had a very productive season especially the last two months where he has really been one of the top goalies in the league. He gives us a chance to win every night and he is a great teammate. He's making big saves when needed and is playing with a lot of confidence right now. Devon has been in our pipeline working his way up behind other NCAA D1 and D3 players and NHL draft picks and it's great to see him experiencing some team and personal success," said Mudbugs head coach Jason Campbell.
"I think the key to our success this last month was our defensive zone presence. We have been lockdown in keeping all shots to the outside of the zone and keeping the Grade A chances to a minimum," said Bobak. "I think my goals for the rest of the of the season are to lead our team to a playoff push and I cannot wait to continue on to college and possible a pro career afterwards."
Runner-Up: Cullen DeYoung, Northeast Generals
Honorable Mention (alphabetical): Tomas Bolo, St. Cloud Norsemen – Stefan Carney, Corpus Christi IceRays – Luca Di Pasquo, Maryland Black Bears – Hunter Garvey, North Iowa Bulls – Beni Halasz, New Mexico Ice Wolves – Konrad Kausch, Minnesota Wilderness – Klayton Knapp, Austin Bruins – Brandon Milberg, Wichita Falls Warriors - Owen Millward, Janesville Jets – Matthew O'Donnell, Johnstown Tomahawks – Greg Orosz, Aberdeen Wings – Will Proctor, Odessa Jackalopes – Arthur Smith, Lone Star Brahmas – Oskar Spinnars Nordin, Bismarck Bobcats